SCARBOROUGH, Tobago – Windward Islands rewarded a resolute, undefeated, maiden hundred from their captain Emmanuel Stewart with purposeful bowling, propelling them to a comprehensive, 112-run victory over reigning champions Barbados in the Regional Under-17 Tournament here yesterday.Stewart, a Grenadian, set things up for the Windwards with 103 not out, anchoring his side to 231 for four from their allocation of 50 overs, after they chose to bat in the first round match at Canaan.
Windwards' spin bowling trio, led by Johann Jeremiah, then bamboozled the lower half of the Barbadian batting and the chase ran out of steam when they were bowled out for 119 in 37.4 overs.
In other matches: Half-centuries from Nathaniel McDavid and Keegan Simmons carried hosts Trinidad & Tobago to a four-wicket victory over Leeward Islands at Louis D'Or, and a purposeful half-century from Jamaica captain Brad Barnes took his side past Guyana by six wickets at Shaw Park in the Tobago capital.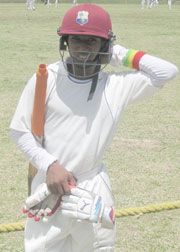 The result meant that Windwards, T&T and Jamaica all collected six points to share the early lead in the tournament which continues tomorrow.
In the second round, Barbados look to rebound against Leewards at the same venue of their defeat today, Guyana meet Windwards at Louis D'Or and T&T face Jamaica at Shaw Park.
At Louis D'Or: McDavid hit four fours and four sixes in an unbeaten 52 from 39 balls and Simmons collected nine fours in 51 from 59 balls, leading enterprising batting that helped hosts T&T chase down a victory target of 208 in 35.5 overs.
Simmons anchored the top-half of the T&T batting before he became the first of 3-47 in eight overs for Zawandie Whyte, leaving the home team needing 110 from the remaining 184 balls.
McDavid and Siba Batoosingh, whose 40 not out from 50 balls included half-dozen fours, made sure it was a cakewalk.
Taking first strike in the match, Leewards' batting fell away following 63-run, second-wicket stand between top-scorer Jerrilous Louis and opener Michael Lewis.
Louis gathered just three fours and one six in 65 from 109 balls and Lewis supported with nine fours in 53 from 75 balls, as the Leewards were bowled out for 207 in 49.4 overs.
No other batsman reached 20 with T&T captain Kirstan Kallicharran and McDavid snaring two wickets apiece.
At Canaan: Left-hander Stewart struck seven fours and two sixes from 124 balls and shared successive partnerships with Allick Athanaze, Johnel Eugene and Nick Elibox that propped up the Windwards batting.
Athanaze supported with 47, sharing a stand of 108 for the third wicket with Stewart that revived the Windwards, after they stumbled to 24 for two in the 11th over.
When Athanaze was caught in the deep off Donte Niles in the 35th over, Stewart added 56 for the fourth wicket with Eugene, son of the former senior Windwards batsman John Eugene.
The younger Eugene was dismissed with 28 balls left and Stewart needing 12 for the milestone, but Elibox joined and batted out the remaining overs to shepherd his captain to his hundred in the final over.
Barbados looked to be steadily building towards the target until Eugene removed top-scorer Limar Pierce for 42 in the 26th over and Thaddaeus Chase for one in the 28th over, leaving them wobbling at 86 for two.
Just when it appeared that the Barbadians were putting things back on track, Lee Louisy struck in the 31st over, when he had Shakib Marshall caught behind.
Jeremiah then completed the demolition job with 4-3 from 3.4 overs, as Barbados lost their last six wickets for 14 runs in the space of 42 deliveries.
At Shaw Park: Barnes, whose 74 not out included half-dozen boundaries from 108 balls, shared an even hundred for the fourth wicket with Rawin Senior that put Jamaica firmly on course for a victory target of 174.
The Jamaicans were shaky on 73 for three in the 23rd over, when Senior came to the crease, scored 45 and with Barnes put their side within touching distance of victory before he was run-out with 16 balls remaining.
Jamaica had bowled steadily after they chose to field and restricted Guyana to 173 for nine from their allocation of 50 overs.
Joshua Persaud hit the top score of 45 for the Guyanese, Ramnarine Chatura made 36 and Ian Spence was the pick of the Jamaican bowlers with two wickets.