PAMELA and Harry Harakh, representatives of the Canadian NGO, Caribbean North Charities Foundation, yesterday handed over a generous donation of skin grafting equipment to the Burn Care Unit of the Georgetown Public Hospital Corporation (GPHC).Thanks to the Foundation, which was instrumental from inception, the Burn Care Unit was established in 2002 to increase the level of care provided to burn victims. The Unit received assistance from the Foundation for its establishment, including building materials purchased and shipped by the Foundation; and the Foundation has since supported the Unit with funding, equipment, training, and educational materials.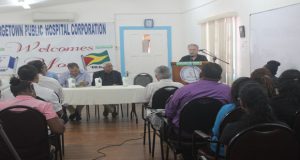 Charge d'Affaires of the High Commission of Canada, Mr. Robert Hart, commended the admirable work of the Foundation, and said he was proud of the generosity of Canadians to care for persons in other countries, and the strong ties between Canada and Guyana.
And Mr. Harakh said, "Canadians are generous people." He explained that the Foundation's support came from persons all over Canada, and that the Foundation took a capacity building approach in its work, and was fully confident in the Unit's team.
Head of the Burns Care Unit, Dr. Rajkumar, said the mortality rate of burn victims was once 50%, but has been reduced to 17% since the Unit became operational.
GPHC CEO, Mr. Michael Khan, said he was very proud of the Burn Care Unit, and emphasised on the significant contribution the Foundation has made on the well-being of patients.
Caribbean North Charities Foundation is located in Richmond Hill, Ontario. It was founded 12 years ago by Harry and Pamela Harakh, along with a few associates, and has since built and equipped a critical burn unit which has now served several thousands of patients and has provided the Georgetown Public Hospital Corporation with reconditioned medical equipment donated by Canadian medical centres.
The Foundation also organises training of medical practitioners in Guyana and in Canada.
Canadian Prime Minister Stephen Harper first made the Americas a foreign policy priority in 2007 with the vision of a more prosperous, secure and democratic hemisphere. Canada's work to strengthen health promotion and health systems through organisations such as the Pan American Health Organization will help create healthier and safer communities for the long term in Guyana. The Government of Canada's work in the health sector is buttressed by the generous Guyanese community in Canada, such as the Caribbean North Charities Foundation, and the supportive Canadian medical community, such as the forty organisations that make up the Canada-Guyana Medical Partnerships Coalition, which contribute to development efforts in Guyana.