REPRESENTATIVES of CANROP, the umbrella organisation that embraces National Chapters of Rural Women's Associations in the Caribbean, are currently being trained on how to build and manage their own website, with support from the Inter-American Institute for Cooperation on Agriculture (IICA).
The Caribbean Network of Rural Women Producers (CANROP) is a network of women agricultural processors and producers working together to improve the economic, social and environmental standing of themselves, their families, their communities, and the Caribbean as a whole.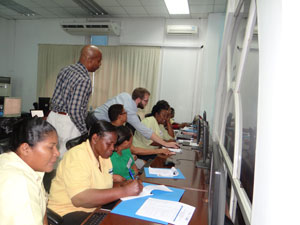 The training is taking place at the Arthur Chung Convention Centre at Liliendaal, East Coast Demerara, and participants have been drawn from CANROP representatives from five Caribbean States, namely the Bahamas, Saint Lucia, Jamaica, Trinidad and Tobago and Guyana.
Communications from and among CANROP members had hitherto been limited to social media such as Facebook and Twitter.
The three-day training programme commenced Monday, and at the end, the women will be able to create the website www.canrop.com.
Since there are representatives from only five countries undergoing the training, the website will eventually incorporate pages with content from the women's associations in other Caribbean countries which were not present.
The website project is part of a CANROP communication strategy for increasing awareness of its social and economic achievements and potential, whilst increasing market access of members and increasing access to resources, capacity development, and market opportunities.
The main resource persons on the training programme are David Thomas and Jessica Ball, both of the British Management Training Company Danaqa Limited.
IICA facilitators are Mr Kervin Stephenson, Regional Project Specialist; and Ms Valerie Anne Donat, Programme Secretary.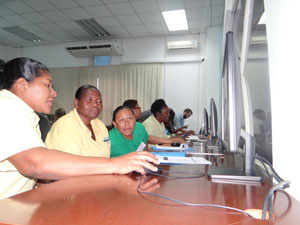 Stephenson said yesterday that the IICA support for the women of CANROP was based on its recognition of their role as the major driving forces of the economies of their respective countries.
Stephenson said a beneficial result of the imminent communications platform is that the women would be able to tell their stories to each other and to the world.
CANROP will communicate the stories of the people and processes behind CANROP and its products, the quality and unique selling points (USPs) of the products produced, and the achievements of individuals, chapters/clusters and member enterprises.
"They will share experiences and best practices. It will be a powerful forum for the communication and exchange of information for rural women," he said. (END)
By Clifford Stanley