THE hazardous conditions under which Government staff is forced to work were condemned by Minister in the Ministry of Social Protection, Simona Broomes, during an impromptu visit to Government institutions in the Bartica Sub-district, Region 7, over the weekend.The Minister, along with a team of Labour Occupational Health and Safety Officers, visited and inspected the work space at the Bartica Police Station and the Bartica Power and Light.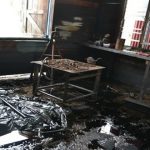 At the police station, the officers complained of having to sleep on very uncomfortable beds, of no washroom facilities, and a kitchen area that is not only unhealthy, but lacks a refrigerator and a stove.
One officer said that he has to purchase his own groceries and even had to purchase a stove to cook his meals. The officers had to join and buy paint to give the barrack room a face lift. The staff also purchased their own drinking water, because the water from the storage tank is not healthy to drink as it is located close to a leaking septic tank.
The female lockups are also in a terrible state, with food boxes and bottles on the floor.
"I would never believe that the Bartica Police Station doesn't have a washroom area, and to even see the condition of the kitchen. You don't even have a wash room area to say that this is the laundry area or so, not even a stove in the kitchen. This Government is not the past one, so we are going to do things differently," Minister Broomes told the officers.
She said that in order for the Administration to meet that mandate of ensuring that all Guyanese have a good life, "we, the ministers, have to go around ourselves and get the surveying done."
It is indeed a sad situation, she said, to see where the very people who have to protect citizens are dwelling. "I am embarrassed, had I been a policeman or woman to live in this condition, I don't think I would have endured it. For the first time I have to take my hats off to the police," Minister Broomes stressed.
She added, "… it is time that the police got some privacy and do away with the word 'barrack room', and move to living quarters to make police officers more comfortable."
She said she is now in a better position to take up the matter having witnessed the situation at first hand. She added that she has made a commitment to represent the people, noting that, "this is a Government that is committed to all Guyanese."
She also encouraged the police to serve with pride and dignity as the new Administration seeks to better their lives.
Meanwhile, at the Bartica Power and Light, the workers, who work for eight to twelve hours daily, complained of working under very hazardous conditions, with no proper safety gear. The lunch room can be described as abysmal, as it is unfriendly and not conducive for staff to comfortably have their meals.
Situated in an environment that is primarily surrounded by oil and batteries, the lunch room resembles that of an unkempt place, with no chairs in sight. The lavatory area is in need of sanitation.
Minister Broomes noted that the building itself is in a deplorable state and that "this is a mockery…this is total neglect, and I condemn this. The previous Administration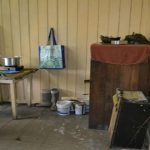 had no interest in what is taking place, they did not care. The change that we are talking about is here."
Meanwhile, Region 7 Chairman, Gordon Bradford, said that the regional administration is looking urgently to locate a suitable plot of land to re-locate the power station.
Meanwhile, the Minister also made a visit to BK Quarries Inc., where she expressed satisfaction with the working conditions. However, there are some things that need to be approved in terms of safety and ensuring that staff work reasonable hours and get adequate leave.
The Minister was pleased that the officers were allowed to interact with the workers. The managers were also happy with the visit which highlighted where there were faults and singled out areas that can be improved.
The Minister has been visiting work sites to inspect conditions under which workers are executing their duties with a view to ensuring conformity with labour laws. Among the places visited are the Enmore sugar factory and Bosai in Linden. (GINA)