LESS than 72 hours after the new government took over the reins of power, a number of interventions have been made with regard to safeguarding public expenditure, including the cessation of all payments by the Bank of Guyana (BoG) for non-essential services, in addition to a sweeping review of all contracts/agreements entered into by the then administration ahead of the 2015 Elections.
This obtains as His Excellency, President David Granger gets set to meet with the permanent secretaries (PS) from all government ministries and budget agencies today at the Guyana International Conference Centre (GICC).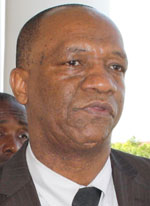 Teams from the Office of the President (OP) are today also expected to be visiting a number of key state institutions, such as the Guyana Revenue Authority (GRA) and the Auditor General's Office, among other bodies.
DETAILED PROBES
The Guyana Chronicle sat yesterday with recently appointed Head of the Presidential Secretariat (HPS) and designate Minister of State, Lieutenant Colonel (rtd) Joseph Harmon, to learn of some of the sweeping changes being instituted since the coalesced A Partnership for National Unity and the Alliance For Change (APNU+AFC) Government has taken office.
HPS Harmon, in providing an update to this publication, cautioned that while there will be detailed probes into matters related to large amounts of money, it is the law that will have to take its course.
Harmon said, "All of these recent contracts that seem to have been done in a hurry in the last days of this (PPP/C) administration will have to be reviewed. I said so while in the opposition, and we will review them."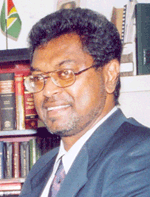 He pointed out that a great many contracts had been handed out by the PPP/C administration during the time of the prorogation of Parliament. "And the government (ministers) at that time were acting like dictators."
Harmon declared that an APNU+AFC Government is not going to be bound "by contracts executed during the process of the prorogation."
Asked about possible court action, HPS Harmon echoed the sentiments of President Granger, who had said, "Where there is criminality, people will have to face the music." Harmon said, "Where there is criminal behaviour, criminal action, criminal activity, people will have to face the full brunt of the law."
PAYMENTS HALTED
HPS Harmon has also confirmed that the new government has put a temporary freeze on all payments that would have been incurred or committed by the previous administration in relation to any non-essential services, especially those contracts that would have been inked during the time of the prorogation of Parliament; and moreso in the run up to the 2015 General and Regional Elections.
He told the Guyana Chronicle that the Bank of Guyana (BoG) has been ordered to put a freeze on all payments which are not regular or routine and can wait.
"We have asked them to put on hold any large or unusual types of payment that are outside of the normal obligations which we have," Harmon said.
He said that the Governor of the Bank of Guyana, Dr Gobin Ganga, has already submitted to the Office of the President the list of recent payments made as well as those due.
On the matter of critical projects that would not have found favour with APNU+AFC, either through conceptualization or realization, projects such as the expansion of the Cheddi Jagan International Airport, Harmon said those would be reviewed immediately.
He said payments under some international obligations will be made, but the new government, in its assessment, is looking to get a better understanding of precisely what resources are available, taking into account payment obligations.
FINANCE DESIGNATE
Conceding an inability to freeze payments for any extended period of time, HPS Harmon reminded that President Granger has already identified the individual to be sworn in as the Minister of Finance, as being former Budget Director Mr Winston Jordan.
HPS Harmon said Jordan has already begun working on looking into the payments and obligations signed onto by the previous administration. "We will be advised by him," he said.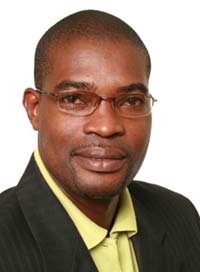 HPS Harmon has issued a stark warning to permanent secretaries and other public officers who had campaigned openly on political party platforms ahead of the just concluded elections.
He reminded of Convention, if not Statute, that would require such personnel to resign their government positions before engaging in any such campaign activity.
He told the Guyana Chronicle that permanent secretaries and other such public officers are in fact the persons who would be heading the ministries and various budget agencies in the absence of a minister. The minister, he explained, gives political direction following their appointments, "but insofar as the day-to-day functioning of those ministries is concerned, the permanent secretaries are the ones who run the ministry."
"Those permanent secretaries who have actually gone on a political campaign on a platform and are part of a list of candidates for a political party," he said, "have actually made a decision that they are going to be political."
The HPS said, "A permanent secretary and a public officer are meant to be apolitical (neutral) in service."
He was adamant that none can tell another how to vote, or dictate what their political beliefs should be, "but once you are in public service, you are in service to the public; and therefore when you choose to actually go on a platform as a candidate for a particular list, then you have actually made that choice, you have made that decision that you are going to serve a particular political party."
HPS Harmon posited, "I don't think that the public would expect impartial treatment" from such a politically aligned senior public official."
He did, however, point out that all officials will be subject to a review process. "We will interview them and make a determination as to what's next for them," he disclosed.
STATE HEADS
HPS Harmon indicated also that in addition to His Excellency President Granger meeting with the permanent secretaries, teams from the Office of the President would also be conducting a similar exercise across state institutions.
He said that while the process of engaging the personnel at the various institutions will commence in earnest, as soon as ministers are appointed, "we expect that they will call in each one of these heads and review their performances; review whether they have been acting in the interest of the people, or whether there are any actions which they would have taken that are inimical (hostile/unfriendly/adverse) to the interest of the people. And based on that, we will determine what is the next step we are going to take."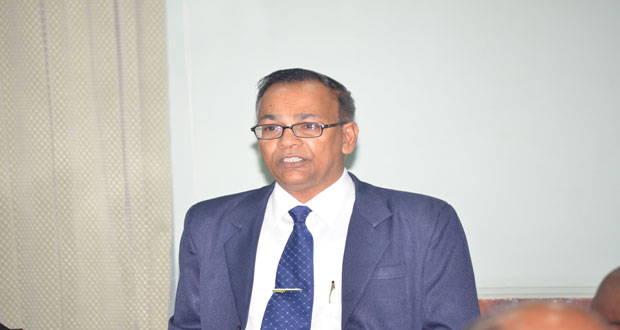 HPS Harmon reminded that while in opposition, "we have said certain things, and I believe that the people will hold us to those standards; and we intend to maintain those standards."
LAW RESPECTED
Asked to speak directly to heads of named State institutions, such as Khurshid Sattaur, the Commissioner-General of the GRA, or Deodat Sharma, the Auditor-General of Guyana, Harmon told the Guyana Chronicle, "They can expect fairness; they can expect balance in what we do."
By Gary Eleazar