AN elderly woman who was struck down by a sand truck Monday morning while attempting to cross the road at Providence, East Bank Demerara, has since died, the police say.The woman, who has been identified as 75-year-old Randai Soodath, of Lot 159 First Street, Herstelling, also on the East Bank, reportedly died on Wednesday.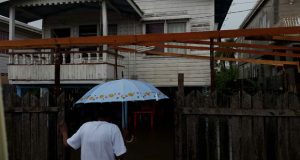 Reports are that Soodath was standing in front of the truck, which was parked at the time, and waiting to cross the road when the accident occurred.
According to the driver of the truck, he did not see the elderly woman in front of the vehicle. He would subsequently tell the police that he didn't even know he had hit down somebody until a passerby shouted, "Look you just ran over a woman." The truck, which was laden with sand, had stopped at the gas station.
Soodath was reportedly on her way to Mocha Arcadia, another East Bank village, to visit an ailing friend as was her custom.
Relatives said Soodath was a very energetic and able-bodied pensioner, who liked to travel to visit relatives and friends and she was making her way to a female friend who lives in Mocha Arcadia but never made it.
Soodath was rushed to the Diamond Hospital but given the severity of her injury she was transferred to the Georgetown Public Hospital where her right leg was beyond repair and doctors were forced to amputate it.
The woman was in and out of consciousness until she passed away on Wednesday at about 8:10 hrs at the hospital.
Her relatives yesterday after learning that the driver was placed on bail became upset since Soodath is no more. They will seek the advice of a lawyer because they do not want the matter to be swept under the rug after losing a loved one.
The elderly friend who Soodath was on her way to visit, after hearing of her tragic demise, is in much disbelief and distress and is unable to come to grips with her sudden death since they were friends since childhood.
Soodath is the mother of one and lived alone. The police said they are probing the matter. (Michel Outridge)