THERE'S need for urgent intervention into the atrocities being meted out to young Amerindian women at Baramita, North West Region. In the last week, two young women have had to be air-dashed to the city for urgent medical attention at the Georgetown Public Hospital after being viciously attacked by persons in the community.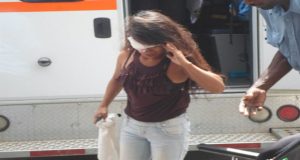 The most recent victim of such attacks was 19-year-old Kasia Thomas who was admitted to the Accident and Emergency Unit of the hospital suffering severe trauma to the head after being attacked by a young man known to her. There was internal bleeding in the region of the eyes; her neck was in a brace; and she related that the man attempted to punch her in her neck with a broken bottle.
As a result of the injury to the head, the young woman was getting regular seizures on arrival at the hospital, and had to be restrained to her bed.
Meanwhile, last Saturday, 22-year-old Eversian Simon, also of Baramita, had to be air-dashed to the Georgetown Public Hospital with chop wounds to the face. She allegedly sustained the injury as she attempted to part a fight between her sister, Velesta Simon, and a woman whose name was given only as 'Gloria'.
The woman, who sustained injuries to her right eye and carried stitches on her nose and across her mouth, told the Guyana Chronicle that the fight developed over an old problem between her sister and the woman. The fight erupted on the roadway at Baramita around 21:00 hrs on Friday night. When Eversian saw that her sister was under attack from the knife-wielding woman, she advanced, with the intention of disarming the irate aggressor and was wounded.
Doctors at the hospital are battling to save the woman's vision in the right eye.
By Shirley Thomas