IN a gesture of thanksgiving for his achievements, more so the recent ones, soca sensation Jumo Primo on Sunday held a party for the children of Lodge and its environs at his Lot 189 Lodge Housing Scheme, Georgetown home.Primo told this publication that he catered for 200 children and they will be feted to snacks, cakes, beverages and other goodies.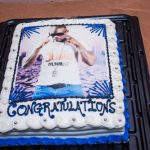 He said it is his way of giving back, and to children, since they bring him a lot of joy and are his biggest fans.
Primo arranged for "Tons of Fun" party services to be present to ensure the children had their faces painted with any cartoon character of their choice; and there was bouncy castle and trampoline for entertainment as well.
He said he always tries to give the children something and in the past had similar events, which he did not highlight but today he wants his humanitarian side to be known.
The children of the Red Cross Convalescent Home in D'urban Backlands were also a part of the fete , sponsored by the well-known artiste.
Primo sang and danced with the large group of children that showed up for the party, after which they munched on sumptuous goodies and drinks.
Primo won the Carib Soca Monarch competition this year, having competed with 18 contestants and prior to that he had also won the competition twice before, but not in succession.
In addition, Primo copped the Road March prize as well with his Mashramani number "Unruly," which was the most played song during the Mashramani 2015 float parade.