GOVERNMENT is close to securing a sizable market on the African continent as negotiations are currently underway for the supply of more than 70,000 tons of rice, to add to the other destinations such as Haiti, Venezuela, Brazil, Colombia, Panama, Belize, Nicaragua, and Guatemala.The announcement was made Wednesday by Agriculture Minister, Dr Leslie Ramsammy, who was responding to concerns expressed by Chair of the Rice Producers Association Action Committee and Rice Farmers, Jinnah Rahman.
According to Rahman, more than 100,000 tonnes of paddy are currently stored in silos across the country with another imminent harvest in about three weeks in the absence of any markets.
Minister Ramsammy, by way of a public missive, immediately pointed out that just last year, rice production was 635,000 tons with more than 500,000 tons of that being exported to overseas markets.
"Rice export last year increased by more than 105,000 tons, or more than 25 per cent over 2013 export," recalled Dr Ramsammy, who drew reference to the fact that the 2013 export itself was also some 20 per cent larger than the previous year.
"Guyana has increased its export between 1990 to now by more than 1,000%," according to the Agriculture Minister.
Jinnah in a pessimistic missive to the media yesterday had claimed that there was an impending crisis since there was no attempt to secure any market in face of a supposed glut – a false claim dispelled by Minister Ramsammy.
'BITTER EXPERTS'
Rebutting what he called "the misinformation campaign by misguided and bitter experts," the Agriculture Minister also explained the need for a buffer stock being held in silos. He said that every rice-producing country will have an amount remaining at the end of the year since for the three-month period between January and March when no paddy is produced, the country has to maintain a stock that will meet local demands and also to ship to clients who require shipments during that period.
"For January, the stock was further depleted when we shipped about 40,000 tons and in February we have shipped another 35,000 tons…With shipment in March expected to be around 40,000 tons, the remaining amounts of rice and paddy from 2014 would be fully depleted meeting local demands."
According to the Agriculture Minister, the statement issued under the hand of Rahman is nothing but another blatant attempt to misinform people.
Rahman alleged too that rice farmers in Berbice and Essequibo Coast are still owed a huge amount of money from the previous crop. However, Minister Ramsammy pointed to the fact that in 2014, there was a revolving fund facility to reduce waiting time amounting to almost $5B.
The industry in 2014 produced paddy worth more than $44B and of that amount, more than $43B was paid out to the farmers by millers.
According to the figures provided by Dr Ramsammy, an amount of less than one per cent is presently outstanding to the farmers and the Government has been working to ensure that this is fully paid off before the harvesting for the first crop of 2015 begins.
$20B OUTSTANDING TO MILLERS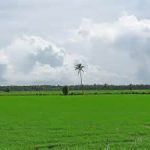 The Minister pointed out too that GRDB estimates that the millers have about $20B outstanding to them from rice and paddy they have exported and are awaiting payments in addition to having rice and paddy still to export. "While the banks have allowed overdrafts, this amount is too large for the banks to accommodate…The Government of Guyana, protecting the interest of farmers, have stepped in to ease the difficulties."
MARKETS NOT A PROBLEM
Dr Ramsammy, in his response to Rahman, reiterated "that the major problem the industry faces at this time is not finding more markets."
Government, he stressed, has made available a revolving sum that amounts to more than $5B to millers so that "we could reduce the long waiting period between export and payment by clients."
The Minister noted too that sometimes, there are cases where intervention against unresponsive millers is warranted in addition to court action. According to Dr Ramsammy, there is one miller who is involved with litigation over the non-payment to farmers.
"This resulted in non-payment of more than $226M to Region 3 farmers…The Government of Guyana had to make these resources available so that farmers could be paid."
Dr Ramsammy also used the opportunity to reaffirm that with the increasing need to export larger volumes and meet higher standards, the industry required major investments in the processing and manufacturing side. Government, he said, has worked with the private sector to ensure that these challenges are met.
Dr Ramsammy also addressed what he called a major constraint in entering a competitive international trade regime in having to wait for payments. "Our international trading partners have requirements that necessitate a waiting period for payments…This situation has created hardships for the industry that has resulted in millers and exporters not paying the farmers on time."
However, Dr Ramsammy observed that "this is a problem that farmers understand, but it creates tension between farmers and millers." He reassured that Government has not been on the sidelines, doing nothing and "indeed, even though the cultivation, milling and processing and export have been exclusively in the hands of the private sector, the PPP/C Government has intervened to facilitate the industry and reduce the impact of late payments."