THE public hearings at the Commission of Inquiry (COI) into the June 13, 1980 death of Dr Walter Rodney took a dramatic twist yesterday when a new witness came forward and revealed an attempt to conceal the truth of the role played by the Guyana Defence Force (GDF) Sergeant, Gregory Smith, as well as an attempt to 'corrupt the truth' by executives of the Working People's Alliance (WPA).
In fact, the Commission also heard for the first time during its more than 50 days of hearings that it was Ann Wagner, Smith's sister, who actually completed and published the book accredited to the suspected killer, 'Assassination Cry of a Failed Revolution: The Truth About Dr Walter Rodney's Death', and attempted to subvert the truth.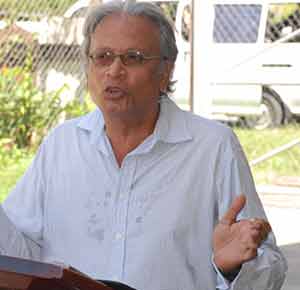 FRENCH GUIANA
Having fled these shores to French Guiana in February 1981, eight months after the fatal explosion, 68-year-old Holland Gregory Yearwood, who gave as his aliases the names 'Jomo' and 'Nigerian', appeared in the dock, and affirmed his oath to tell the truth about what he knows about Dr Rodney's death.
He testified that Wagner had contacted him via telephone from the United States where she resides, and asked him to record his experiences in relation to the Rodney affair, and mail it to her, so that it can be included in the book.
Yearwood said it was during one of these telephone conversations that Wagner asked him not to include the fact that Sergeant Smith had any hand in helping Dr Rodney put together the device that eventually killed him.
"She wanted me to deny that Gregory Smith assisted Rodney in putting together the device," Holland said, adding that that was something he could not do.
The former Wismar, Region 10 resident also named Dr Rupert Roopnaraine and Eusi Kwayana, executive members of the WPA, as two people who would have had a hand in 'corrupting the truth' about Dr Rodney's death.
Appearing before COI Chairman, Sir Richard Cheltenham, and Queen's Counsel Seenauth Jairam and Jacqueline Samuels-Brown, Yearwood, who was led in his evidence-in-chief by Attorney-at-Law Latchmie Rahmat, testified that he knew Rodney ever since his youth.
Prior to his testimony implicating Smith's sister, Dr Roopnaraine and Kwayana, the witness spoke of at least two occasions where Dr Rodney had sought his help to take part in activities he felt uncomfortable with, and as such backed out.
ELECTRICAL BUSBARS
Yearwood said that as much as he was an independent political activist, his work centered more on sports and youth development.
He recalled that one such occasion where Dr Rodney solicited his help, was on Thursday, July, 5 1979, when he had accompanied a sports team from Region 10 to take part in an athletic meet, hosted by the Guyana National Engineering Corporation (GNEC) in Georgetown.
Yearwood, under oath, said while on his way back up to Region 10, he noticed his brother along the Grove Public Road on East Bank Demerara, and he stopped for a quick chat.
He said that no sooner had he began his conversation with his brother, than he heard the tooting of a horn and noticed that it was Dr Rodney in a car trying to hail him.
According to the witness, he approached Dr Rodney, who informed him that there was an urgent operation in Georgetown, and that his help was "highly appreciated".
Yearwood said he was not immediately informed of the details of the operation, but was told by Dr Rodney, "Sometimes you have to hit the enemy in their beds, and their reactions will be judged."
He testified that he soon learnt that the urgent operation was meant to dislodge the 'Electrical Busbars' at Camp and Church Streets.
This would have effectively plunged the entire Street, all the way up to Lamaha Street to the north, in blackout, but when he saw the locks on the control box, he backed out.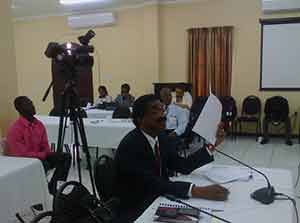 FIRING CAPS/DETONATORS
Dr Rodney, he said, was known to have frequented his home in Wismar, Region 10, on a few occasions, even resulting in his arrest one day.
Yearwood testified to being awoken to a pistol in his face, after which several uniformed police ranks arrested and took him to the Mackenzie Police Station, where he was interrogated as to the nature of Dr Rodney's visits.
It was on one such visit that his help was solicited again, according to Yearwood.
According to the witness, approximately three weeks before the fatal explosion, Dr Rodney had visited his home at about 2:30pm and again requested his help.
He said after they had retired for a conversation in his home, Dr Rodney reached into a bag and gave him something which he did not recognise.
Dr Rodney, he said, asked if he could put them into some circuitry.
Yearwood said when he enquired of Dr Rodney as to what the items were, he was told, "Firing caps, detonators … firing caps, detonators."
Yearwood said he immediately declined, saying that he could not do it and gave the objects back to Dr Rodney.
CAYENNE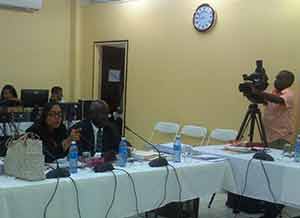 According to Yearwood, following the explosion that killed Dr Rodney, he left Guyana for Cayenne, with the help of a senior WPA functionary, one Mr Josiah, who had informed him that they needed a technician in that country.
He testified that about three months after arriving in the French-speaking territory, he was told by a colleague, who he identified as Robert Marshall, that the person who had killed Dr Rodney was in fact hiding out in Cayenne.
According to Yearwood, as a result of his closeness to Dr Rodney, he decided to investigate, and soon learnt of Smith's location, and the fact that he was living under the alias 'Cyril Milton Johnson' or 'Johno.'
This information, he said, was related to Mr Josiah's son, who was at the time visiting Cayenne, and promised to relay the information to 'Central', meaning the WPA's headquarters here in Georgetown.
He said a meeting was subsequently arranged, at which point he met with Dr Roopnaraine, David Michael and Kwame Apata.
The meeting, according to Yearwood, took place at a hotel in Suriname, where he briefed the WPA leaders on what he had learnt about Smith.
According to Yearwood, an operation was devised to grab Smith from Cayenne, so that he could be placed before an International Criminal Tribunal.
Yearwood testified that in December of that year, he was supposed to have collected two WPA operatives, who never showed up, which caused him to deduce that they had been held up by the coup d'etat which was occurring at the time in Suriname.
By March the following year, Yearwood said he met with Michael and Apata in Suriname.
There, he was told by Apata that the man he had seen and identified as Sergeant Smith living in Cayenne was in fact not the person; that Smith had been positively identified as living in another South American country; and to leave the matter alone.
SERGEANT GREGORY SMITH
Yearwood testified that incidentally, in 1986 during conversation with Sergeant Smith, he learnt that had he pressed 'Central' at the time, they would have told him the same thing Apata told him: To leave the matter alone.
It was at this point that Yearwood accused the WPA executives of corrupting the truth about Dr Rodney's death.
Pressed by the Commissioners at the COI, he identified Dr Roopnaraine, and drew reference to the occasion of the 1994 tribunal that had been established by the then President Dr Cheddi Jagan, to investigate the death of Dr Rodney.
Yearwood testified that at the time, he had spoken to BBC Caribbean about what he knew about the whole sordid affair, and was even attempting to get Smith to testify before that tribunal.
He said that Dr Roopnaraine, following his interview with BBC Caribbean, took to the local press and denounced having any knowledge of his existence as a WPA member and questioned his authority to speak on the matter.
During his testimony, Yearwood testified that immediately after the 1980 explosion, he was of the opinion that Sergeant Smith was guilty of killing Dr Rodney; but this changed by 1986.
He said it was after 1986 that he learnt that the WPA executives had corrupted the truth about how Dr Rodney died, and what was responsible for his death.
"Who tell me to leave it as is? Who tell me it wasn't Gregory Smith (in Cayenne)," Yearwood pondered aloud as he affirmed his belief.
Yearwood testified that Smith confided in him that it was the WPA that was responsible for his escape out of the country, and shipped to Trinidad and Tobago,
The witness testified that Smith confessed to being marooned on the twin-island republic for approximately three weeks before contact was made again, and that his handler was given the go- ahead to have him returned to Guyana.
According to the testimony, the WPA was responsible for Smith's return to Guyana, after which he was taken to Kwakwani in Region 10.
Yearwood, in his testimony, as he relayed what was allegedly told to him by Smith, said the WPA was responsible for Smith's journey to neighboring Suriname, where he was handed a passport with a visa by Party operatives to travel to Cayenne.
The public hearings will continue today at the Georgetown High Court buildings at which point Donald Rodney is expected to return to the witness stand to continue with his evidence-in-chief.
The hearing is also slated tomorrow to visit the site where the explosion occurred on the night of Friday June 13, 1980 killing Dr Rodney and leaving many to speculate for 34 years as to culpability.
Dr Rodney was killed instantaneously when a bomb exploded in his lap while he was seated in the passenger seat of his brother's Mazda Capella motorcar, PBB 2349, in John Street, Werk-en-Rust outside the Georgetown Prisons.
By Gary Eleazar