MAGISTRATE Chandra Sohan is appealing his indefinite suspension, a decision handed down by the Judicial Service Commission (JSC) on Wednesday.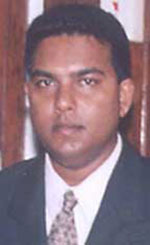 The suspension followed a complaint to the JSC by a virtual complainant (female), whose case relative to a domestic violence charge, was being heard by Sohan.
The JSC, in the last few weeks, has been taking firm action over the behaviour of professionals in the judiciary.
Only last week, Sparendaam Magistrate Alex Moore was suspended by the JSC, also indefinitely, after allegations of inappropriate behaviour that were made by an East Coast Demerara businesswoman.
Moore and several other magistrates have come in for criticism by both members of the public and organisations, the most recent coming from the Guyana Police Force (GPF).
The GPF, in a statement yesterday, noted its disappointment with the "slap on the wrist" sanctions given to persons convicted of Noise Nuisance by the court. The Force was referring to the decision of Magistrate Zameena Ali, who is currently presiding over matters at the Sparendaam Court in Moore's absence.The police believe that the magistrate's decision could undermine their work and could deter citizens from pursuing such matters in the courts.
Magistrate Moore himself was the subject of criticism after a most controversial ruling in a cocaine-related matter.
Moore granted a suspended sentence of five years to confessed drug trafficker, Ray Bacchus, and ordered that he pay a fine of $2.5M by June 30, 2015.
Bacchus was arrested, along with his son and wife back in 2011, when the police raided his home following a tip-off that the family was in possession of cocaine for the purpose of trafficking. A police raid unearthed $300M worth of narcotics, which were concealed in the false bottoms of kunds (Hindu religious urns). The drug was found at Bacchus's Block 20 Enmore/Haslington New Scheme, East Coast Demerara (ECD) home. Since his arrest three years ago, Bacchus had changed his initial plea from guilty to not guilty. Upon changing his plea, A Partnership for National Unity(APNU)parliamentarian James Bond was retained as his legal representative.
In relation to the most recent suspension, Sohan has faced the force of the JSC before. In September 2010,he was suspended for one month after a complaint from the police. However, he refuted the report, which were related to allegations of failure to carry out his duties.
Attempts to contact Chancellor of the Judiciary Carl Singh for a comment yesterday proved futile. The Guyana Chronicle was informed that he was unavailable.