WITH a simple but classic ceremony Monday at the Cara Lodge, Quamina Street, Georgetown, the Embassy of the Argentine Republic hosted its first ever wine-tasting event.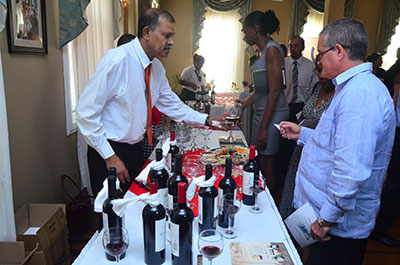 The event showcased some of the most sophisticated and assorted wines from Argentina, especially brewed from Argentinean grapes and berries.
Speaking at the event, Argentinean Ambassador to Guyana, Luis Alberto Martino welcomed the gathering, nothing that it was the first such event hosted since their re-opening in 2011. He added that this initiative also served as a positive forum for the exchange of products between the two countries.
In his presentation, Martino noted that another reason for promoting the event was to contribute to the wine sector of Guyana, since Argentina is a major wine- producing state. He added that since there has been awkward showcasing and promoting of local wines, the event would serve as a booster in that arena.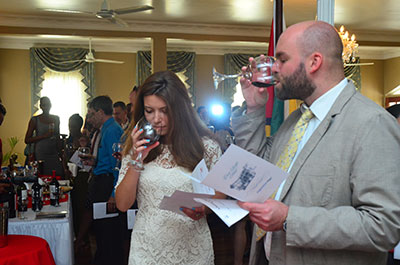 He especially lauded the efforts of the Demerara Distillers Limited (DDL), Pegasus and Marriot Hotels, and several other entities which came on board with them as they embarked on the drive of promoting the Argentinean wines.
He noted that original grapes are used in the brewing of wines on display, emphasising that Argentina boasts a great diversity of some 504,485 acres of cultivated areas designated to the cultivation of grapes for wine- making.
He added that Argentina is the fifth largest state in world-class wine production, and the eighth largest wine exporter in the world. He also added that this country has been labelled as the eleventh largest wine consumer in the world, with some 1,301 wineries, and 504,485 acres of land designated for cultivation of grapes and berries for wine production.
After his presentation invitees gathered for sampling of the delectable wines on show and exclamations of surprise and satisfaction were echoed all around as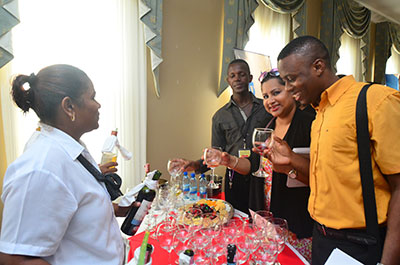 persons displayed their delight at the different flavours.
Up for display and tasting were the Beviam-Sauvignonasse (sweet), Beviam-Cabernet Sauvignon (2007), Beviam-Malbec (2007), Grand Beviam-Special Reserve-Malbec (2008), and the Beviam-Malbec (2013).
Up for tasting also were the Beviam-Malbec-Rose (2013), Imperio De Sentidos-Malbec (2013), and the Imperio De Sentidos- Torrentes' (2013-White)
There were also the Trapiche- Pinot Grigio 2011 (white), Trapiche- Malbec, 2010, Trapiche- Merlot, 2012, and the Trapiche- Torrentes', 2012 (white).
Rounding off the order of the evening were the Trivento-TRIBU-Malbec, 2012, Mixtus-Merlot-Malbec, 2012, and the Mixtus-Cabernet-Merlot, 2012.
(By Alex Wayne)