Russian people will always remember their great scientist Alexander Popov (1859-1905) who invented the radio.
In 1895 he developed the first radio-receiver that could register thunderstorm electricity discharge from considerable distances.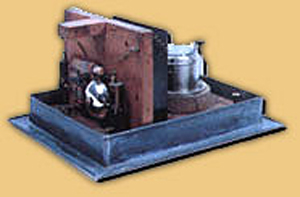 On 12th of March 1896 Popov together with Ribkin demonstrated wireless transmission of Morse signals from one university building to another that was 200 meters far from the first one. It was the first sensible transmission of text in the world. In spring of 1897 Popov conducted some experiments on the ships and was able to transmit information to a ship that was as far as 640 meters from Popov. He was increasing the distance of transmission day by day.
In 1897 he also discovered that all metal objects in the way of a radio wave could change the wave direction, or in other words could reflect it. It was the start of another useful invention called later radio-location. Imperfection of equipment at that time did not allow to put the observation into use until 40 years later when the first radio-radar was built. Others have laid claims that they discovered this phenomena of wave reflection, but it should be remembered that the invention was actually made by Popov.