EASY MOTHER'S DAY MEALS
* Heart-Shaped Egg in the HoleWhether it's a surprise breakfast in bed or a relaxed afternoon tea, there's no sweeter way to say "I love you" than with a homemade Mother's Day meal.Here's a present you know she'll love — breakfast in bed with a surprise, a heart-shaped egg in the hole.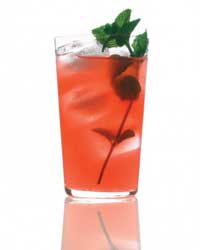 * Using a cookie cutter or a knife, cut out a small heart shape from the center of a thick slice of bread. Spread each side of bread with herb butter.
* Heat skillet over medium heat. Saute bread until golden, 2 to 3 minutes. Lower heat, and gently flip toast.
* Break an egg into heart-shaped hole. Cover, and cook until egg white turns opaque, about 5 minutes. Transfer to a plate along with the heart-shaped piece of cutout bread, perfect for dipping into yolk.
* Serve with a cup of hot cocoa or cafe au lait.
* Raspberry Lemonade
Enlist raspberries, those on the verge of being overripe are perfect — to sweeten lemonade and turn it a pleasing shade of pink.Pounding the lemon slices releases oil from the rinds, rounding out the flavor.
* Shrimp Pasta Salad with Cucumber and Dill
Forget deli-style pasta salad, and try this version with shrimp and a bright lemon dressing. You can even make it up to a day ahead.
INGREDIENTS
* Coarse salt and ground pepper
* 3/4 pound large shell pasta
* 1 pound large peeled and deveined shrimp, tails on (if desired)
* 1 English cucumber, halved lengthwise and thinly sliced
* 1/2 cup roughly chopped dill
* 2 tablespoons light mayonnaise
* 2 tablespoons olive oil
* 2 tablespoons fresh lemon juice
* 1 teaspoon Dijon mustard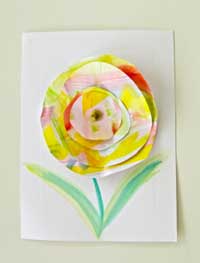 COOK'S NOTE
* To keep the texture and flavor of this salad at its vibrant best, toss the pasta mixture and dressing together right before serving.
DIRECTIONS
*
* STEP 1
* In a large pot of boiling salted water, cook pasta until al dente. Add shrimp, and cook just until opaque throughout, about 30 seconds. Drain, and rinse with cold water to stop the cooking. Drain again.
* STEP 2
* Transfer pasta mixture to a bowl; toss with cucumber and dill. In another bowl, whisk together mayonnaise, oil, lemon juice, and Dijon; season with salt and pepper.
* STEP 3
* Add dressing to pasta mixture, and toss to combine.
MOTHER'S DAY CRAFT FOR CHILDREN
* Circular Painted Paper Flower Card Craft
Make a beautiful flower card using recycled paper that you paint on. This is a great Mother's Day card.
* Supplies needed:
Scrap paper (recycled paper, newspaper, phone books, etc.)
Watercolor or tempera paints
Brush
Scissors
Old plastic lids or a compass (for drawing circles) — or draw them by hand
Pencil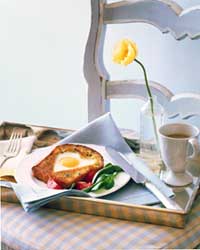 One brad for each flower
Scissors
Hole punch
White cardstock paper (or construction paper) for the card base.
Instructions
* Paint freely on scrap paper (recycled paper, newspaper, or phone books). Make many pieces using many colors. Have fun exploring color mixing and trying new brush strokes. This is a lot of fun! Let the paint dry.
* Cut many circles (of different sizes) from the painted paper. To make circles, use a compass, old plastic lids, or any circular object you have on hand. Or just draw them by hand — they don't have to be perfect.For each flower you'll need about 5 circles of different sizes, ranging from about 1 inch in diameter to about 3 1/2 inches diameter.
* Punch a hole in the center of each circle. For the larger circles, you may have to crumple the circles a bit to punch the center, but that's fine — it makes the petals even prettier.
* To form each flower, layer the circles with the biggest on the bottom. Insert a brad through the circles.
* Design your card: Decide where you want your flower to be on the card.After deciding on the placement of the flower, insert the brad through the top of the card and fasten it. Draw a stem and leaves for your flower.You now have a beautiful flower card!