INDO-Guyanese are nationals of Guyana Indian or other South Asian ancestry. Lingustically, they are collectively known as the speakers of the Indo-Aryan Hindustani languages such as Hindi and Urdu. Ethnically, they are more specifically known as the Arya Hindavi People (People of Hind) a ethno/linguistic group coming primarily from the north-central Indian region of Hind, which is located in the Gangetic Plain of the Ganga and Yamuna Rivers in North India, between the Himalayas and the Vindhyas. 
They are usually catogorised with multiple identities, with a more localised and prioritised ethnic orientation, for example, Bihari People, Haryanvi People, Avadhi People, Malvi People, Himachali People, and Bhojpuri People, in addition to further tribal, village, or religious identities.
This region is primarly inhabited by Aryas (People of Aryavarta), a larger collective panethnicity of Northern, Central, Western, and Eastern India, also known as Aryavarta, as opposed to Dravida or South India.
Although the word 'Bharati' refers to people from the Indian subcontinent known in Sanskirt and Hindi as 'Bharat', it is historically important to understand the complex history, culture, ethos and demography of the nation of India, also known as Bharat Ganrajya.
Certain groups of Hindustani people are identified with multiple identities, with a more localised prioritised ethnic orientation, for example, Bihari People, Haryanvi People, Avadhi People, Malvi People, Himachali People,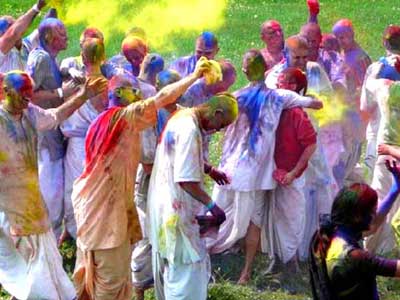 and Rajasthani People, in addition to further tribal, village, or religious identities.
Indo-Guyanese are the largest ethnic group in Guyana, identified by the official census, making up 43.45% of the population in 2002. Most Indo-Guyanese claim and recognise the Ganges Valley of Northern India and various parts of South India as their ancestral and cultural roots.
On May 5, 1838, the year of the final slave emancipation in the British West Indies and the beginning of the indentured labour system, 396 Indian immigrants, popularly known as 'The Gladstone Coolies', landed in British Guiana (now Guyana) from Calcutta (now Kolkata).
This was the beginning of the indenture system, which was to continue for over three-quarters of a century, and whose essential features were very reminiscent of slavery. Within a decade, Indian immigration was largely responsible for changing the fortunes of the sugar industry, the mainstay of the economy, from the predicted 'ruin' to prosperity.
Up to the early 1860s, recruits in North India were drawn from in and around Calcutta, and from the Chota Nagpur plateau, a sub-division of the Bengal Presidency about two to three hundred miles from Calcutta.
Those from Chota Nagpur were the 'Hill Coolies' or Dhangars. The Dhangars were in great demand by tea garden planters to clear the jungle for the expansion of tea cultivation. Consequently, recruiting operations were pushed further north-westwards, and the North-Western Provinces and Oudh (Modern Uttar Pradesh) and Bihar became the main suppliers of colonial labour.
The importation of labour from the Indian subcontinent was part of a continuing search by Guianese planters for a labour force that was docile, reliable and amenable to discipline under harsh, tropical conditions.
Emancipation had conferred on the Guianese labourers both physical and occupational mobility. The majority of Indian immigrants were drawn from North India, with smaller batches coming from the Tamil and Telugu districts of South India. They were recruited, very often on spurious promises, by professional recruiters, largely assisted by paid local agents called "Arkatis" in North India, and "Maistris" in South India.
This system of recruitment by local agents formed the backbone of all recruiting operations, from the inception of the system to its cessation in 1917. Intimidation, coercion and deception were very often used to recruit Indian labourers. Women, in particular, were very vulnerable. When labourers were difficult to enlist, the recruiters resorted to such illegal practices as kidnapping and forced detention.
RELIGION AND CASTE SYSTEM
Between 1838 and 1917, over 500 ship voyages with 238,909 Indentured Indian immigrants came to Guyana, while 75,898 of them or their children returned to India. The vast majority of the Indian Immigrants that came were from the Hindustani (or Hindi)-speaking areas of North India.
The most popular Hindustani dialect spoken among these immigrants was Bhojpuri (spoken in east Uttar Pradesh and west Bihar), followed by Awadhi (spoken in central Uttar Pradesh).
62% of the Indian Immigrants to Guyana came from districts that are now part of the Indian state of Uttar Pradesh; 21% from districts that are now part of Bihar State; 6% were from pre-partioned Bengal; 3% from what are today Orissa and Jharkhand States; 3% from what is today Tamil Nadu State; 3% from Central India: 1% from pre-partioned Punjab; and the remaining 1% from the rest of India. (96.8% of all the Indian Immigrants to Guyana left from the port of Calcutta in North India, and 3.2% from the port of Madras in South India)

The religious breakdown of the Indian immigrants to Guyana were 85% Hindus and 15% Muslims. As to their castes, from the Indenture documents of the Indian immigrants to Guyana, the following information was found: 11% were Hindus who were classified as Brahmin, Bhumihar, Chatri, Rajput and Thakur castes. 1% were Hindus of the merchant or writer castes; 30% were Hindus of the medium agricultural castes; 9% were Hindus of the artisan castes; 2% were Hindus of the petty trading castes; 2% were Hindus of fishermen and boatmen castes; 25% were Hindus who were from menial or Dalit castes; 3% were Hindus who were Madrasis; 2% were 'Hill Coolies' or Tribals; and the remaining 15% were Muslims, regardless of their caste origins.
The only acknowledgment the colonial government and the plantation managers gave to caste differences was their distrust of the Brahmins as potential leaders. East Indian workers were housed together, and placed in work gangs without consideration of caste.
FESTIVALS AND HOLIDAYS
Guyanese Hindus continue to observe holidays such as Holi (burning of Holika) and Diwali (festival of lights) among others, while Muslims celebrate the holidays Eid and Kurbani (sacrifice of the sheep). In Guyana, Indian Arrival Day is celebrated on May 5, commemorating the first arrival of indentured servants from India to the country, on May 5, 1838. On this day, the workers arrived to work in sugar plantations.
MARRIAGE
Among Hindus and Muslims, arranged, comparatively early marriages are common. Middle-class Indians have greater freedom in choosing a spouse, especially if the woman is a professional. Marriage usually occurs later, and the family is smaller. Indian families are patriarchal, and often function as corporate economic units. Weddings are performed with the bride and groom dressed in traditional Indian clothing influenced by the fashion of other races in the country.
CUISINE
The blending of cultures made Indian cuisine more widely known and accepted as national dishes, such as gulab jamun, parasad (sweet coconut paste with raisins), sweet rice, dhal puri, chicken curry, and seven curry, a dish of seven curries eaten at one meal, generally served at weddings, poojas, and religious functions.
(Wikipedia)