THE BRAZILIAN Naval Task Group, comprising two patrol vessels, namely the Bocaina and the Grauna, under the command of the Northern Naval Group's War and Sea Captain, Jackson Sales da Silva, arrived at Port Georgetown on Monday as part of a naval exercise called "Operation CARIBEX-2014".
And yesterday, at a brief press conference, the media was afforded the opportunity of going abroad 'The Bocaina', docked at the Guyana Defence Force Coast Guard (GCGS HINDS) port.
The vessels are part of the Northern Naval Group which was originally the Amazon Flotilla (FLOTAM), founded in April 1974.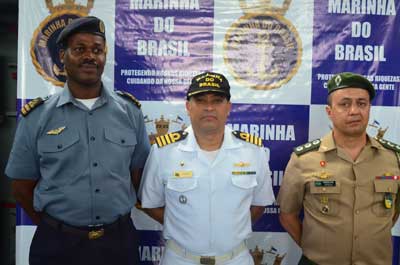 Captain Jackson Sales da Silva told reporters: "We are here in Guyana to strengthen our friendship and to help the Coast Guard with training." Captain da Silva also explained that the Brazilian Navy has an unblemished history of cooperation with the Guyana Defence Force's Coast Guard, and over the years, many Guyanese Naval Officers have been trained at the Admiral GracaAranha Instruction Centre (CIAGA) in Rio de Janeiro.
Captain da Silva also indicated that when the vessels have completed their training assignment in Guyana, they will move to Suriname, and then to French Guiana, where the French Navy is constructing four submarines for the Brazilian Navy.
Commander Gary Beaton of the Guyana Defence Force (GDF) Coast Guard had this to say: "Last year, we sent eight persons to Brazil for training, and this year, we are expecting to have training done at GDF Essequibo, which is the flagship of Guyana. That training will entail 'man overboard' drills (and) damage control, to name a few."
At the end of the training, the Brazilian Naval Task Group would assess the state of GDF Essequibo on the skills levels, readiness of the crew, and integrity of its machinery.
Asked why the Coast Guard was using the Brazilian Navy for training, Commander Beaton explained: "Brazil has the expertise on these vessels, since the Bocaina is a sister ship to our flagship in Essequibo, and (is) also as a part of Operation CARIBEX-2014. It is our agreement".
The Fourth Naval District has as its mission statement: "The safeguarding of human life and the Brazilian Navy material in the sea and the navigable interior waters; the defence and safety of the hydrous traffic of national interest; the prevention of the environmental pollution by vessels, platforms, and their support facilities; the warranty of the facilities and of the maritime terminals of strategic value to the country; and the control of the fluvial and maritime areas."
The mission of the Northern Naval Group is to perform help and rescue; river operations, mining operations, naval inspections and fluvial patrol in order to contribute in the area under the jurisdiction of the Fourth Naval District.
(By Rebecca Ganesh-Ally)