THE New Amsterdam Municipality in Berbice has presented its multi-million dollars 2014 budget, with an expectation of garnering $132,922,820.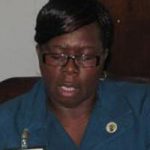 Although, there has been no increases in the rates and taxes and some homes have retained a value of $620, $480 and $220, based on a 1975 valuation, the Council expects an injection of $66,308,974 from the property tax revenue.
Town Treasurer, Sharon Lamazon Anderson made the presentation to a disappointing turnout of the citizenry at the New Amsterdam Town Hall on Monday.
The annual budget, which is yet to be approved by the Ministry of Local Government and Regional Development, anticipated, under its revenue base, income from the market, government subvention, investment income and rental of parks and playfields.
Grants, gifts and donations were estimated at $100,000.
Meanwhile, the market is expected to earn $28,526,204 in revenue and the stallholders are targeted to pay outstanding sums for their vending spots.
Mayor Claude Henry, who was also in attendance, noted that the taxpayers did not see an increase in their rates and taxes although just a little over 50 percent was collected.
Economic crisis
"We did not see the need to increase the rates and taxes, as we feel that persons in the community are finding it difficult to cope with the economic crisis. We are very sympathetic.
"Since 1975, there has been no official increase. Some persons are still paying $640 per year for taxes. There is need for a revision. The persons who own the condominiums in the Savannah Park Housing Scheme are not paying their rates and taxes," he lamented.
According to Henry, citizens pay their utility bills in a timely manner but fail to pay their taxes yet they are critical when there is limited development.
While admitting that it was due to the late submission of the budget to the ministry which has resulted in the delayed release of the insufficient $10M subvention, Henry said the sum should be increased by between 200 and 300 percent.
He posited that the town has been expanded, resulting in a greater need for assistance in capital works.
Nevertheless, the Mayor noted that the overhead expenses of the Council, coupled with the now increased minimum wage makes it difficult to attract persons within the town's employ, as municipal workers are currently paid $16 per hour.
Alluding to the fact that, despite warnings, mass dumping by businesses and residents alike continues along the road shoulders. Henry pointed to the need for a revision of the town's by-laws, similar to that of Georgetown.
He said that would allow members of the Constabulary to impose fines on delinquent citizens, thus boosting the revenue base.
In addition, Henry observed that several billboards are erected around the township, yet no revenues are garnered for the advertising.