They Came in Ships
THE poem, 'They Came in Ships', paints a realistic if not sordid picture of the advent and sojourn of Indians to the Caribbean. The focus of this particular work was on the Guyana situation.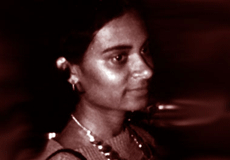 The author, Mahadai Das, was a Guyanese poetess whose work explored Guyanese consciousness and Indian sensibility as her eye 'sweeps over history' of her ancestors who were brought to Guyana from India as indentured labourers in a mission of 'imperialist design', in an experiment on living human beings, an experiment that started in 1838 and ended in 1917, the after effect of which is still felt today, some 174 years after the first arrivals on May 5, 1838.
Early in the poem, it is stated 'some came with dreams of milk-and-honey riches/… Dreams of a cow and endless calves, /and endless reality in chains.'
What was the 'endless reality in chains'? 'Honourable mention' and 'second prize'! It was disheartening to read in the history books of the trauma of indentureship, but the poetess' expression is chilling.
I remember logies, barrackrooms, ranges,
nigga-yards. My grandmother worked in the field.
Honourable mention.
Creole gang, child labour.
Second prize.
The poetess was unwilling to let go of the sufferings of her ancestors, as she was determined not to reject her history; a history that would mould her and guide her; a history responsible for turning her into a political creature – dreaming to change the world.
I saw them dying at streetcorners, alone, hungry
for a crumb of British bread,
And she was also unwilling to spare the colonisers any briar for fostering such a condition on the indentured servants that was no worse than slavery; in fact, indentureship was described as 'slavery by another name'.
Commissioners came,
capital spectacles in British frames
consulting managers about costs of immigration.
The commissioners left, fifty-dollar bounty remained.
The poem is not devoid of hope, as the writer turned to the history of Guyana for inspiration, a way out of the misery. She turned our attention to a major slave rebellion in Berbice, led by Cuffy in 1763, and to the Demerara Uprising in 1823. She also mentioned Crosby and his efforts to assuage the suffering, and pointed to the partially failed Des Voeux commission.

Cuffy shouting:
'Remember 1763!' – John Smith – 'If I am
a man of God, let me join with suffering.'
Akkarra – 'I too had a vision.'
Des Voeux cried,
'I wrote the queen a letter,
for the whimpering of coolies in logies
would not let me rest.'
They came in ships across the dark waters and survived because hope of a better life was beating in their breasts.

They came in fleets.
They came in droves
like cattle
brown like cattle,
eyes limpid, like cattle.

Some came with dreams of milk-and-honey riches,
fleeing famine and death:
dancing girls,
Rajput soldiers, determined, tall,
escaping penalty of pride.
Stolen wives, afraid and despondent,
crossing black waters,
Brahmin, Chammar, alike,
hearts brimful of hope.
The repetition is not without design as the poetess continued the chant of suffering and hope throughout the poem.
Mahadai Das was born in Eccles, East Bank of Demerara, Guyana, in October 1954. Das left her footprints in Uitvlugt, West Coast Demerara; lived for a number of years in the USA; and died on April 3, 2003 in Barbados, where her mortal remains were laid to rest.
She bears the distinction of being among the few  Guyanese women writers of Indian ancestry to have published at least three collections of poems, namely: 'I Want To Be A Poetess Of My People', 'My Finer Steal Will Grow', and 'Bones'.
(To respond to this author, either call him on (592) 226-0065 or send him an email: oraltradition2002@yahoo.com)