–this edition of 'A Treat for my Mother'
SIMONE Dowding, director of 'A Treat for my Mother', is excited that her guest performer this time around is Guyanese musical artist Kenneth Oswald, better known as 'Small Man', who has been residing in Canada for many years now.
Oswald, who made a name for himelf on the front lines of Yoruba Singers and Mingles Sound Machine Bands, will be performing the song, 'Only for one night' at the show, which is billed to be held this Sunday at the National Cultural Centre (NCC) here in Georgetown.
"Preparation is at its high!" Dowding told The Buzz recently, and that her audience is guaranteed satisfaction. "The show is designed not only for the matured audience, but for the younger generation who are lovers of the classics and fashion of the now," the veteran producer-director said.
Calypso is also on the cards, featuring the likes of Winfield James, who is no stranger to that genre of music.
Dowding, owner of Purple Arts Productions, is directing the production, which will commence at 20h00 sharp.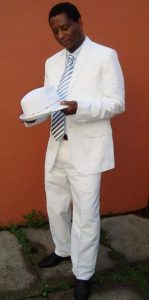 What is different about the show this time around, however, is that it will feature new and different performers. Some of the entertainers billed to perform include Calvin Burnett, Colin Ambrose, Daria Barrow, Timothy Bourne, Delisha Wright, Sheron Cadogan-Taylor, and Donald Wallerson.
Dowding is also excited to have on board the granddaughter of oral historian and promoter of Guyanese Literature, Petamber Persaud, the young songstress, Gabriella Trotman, who is just about eight years old but can hold her own with the best of the lot.
Mark Hall, one of the top local musicians, will also be on hand to sing and play the piano.
According to Dowding, she has also made place for a fashion segment, which will feature displays from young and talented local designers.
Just as in previous years, this year's show will also feature door prizes, with the best dressed mother in purple walking away with gold jewellery from L. Seepersaud Maraj and Sons.
A graduate of the Burrowes School of Art and other institutions, Dowding has ended up with a total of 13 certificates, and won the Theatre Guild's Best Actress Award in 2012 for the play, 'Old Story Times'.
Having joined the Theatre Guild more than 30 years ago, she works primarily with children through her production house, providing them with opportunities she never had as a child.
Having worked on the popular Link Shows, Dowding has also done House of Pressure, Miriamy, Eleventh Finger, and Jezebel, just to name a few.
Tickets for the May 12 show cost $2,000 and $1,500, and are available at the NCC.