– but a shrewd businessman in the making
HE'S never been particularly bright, says 18-year-old Kayshav Tewari. For that matter, he barely made enough marks to get into Queen's College.
And even after he made the cut, he just couldn't care less about books and studies; he was too caught up being a teenager.
But somewhere along the line, reality kicked in, and today, he is one of two local students who did so well at both CSEC (Caribbean Secondary Education Certificate) and the CAPE (Caribbean Advanced Proficiency
Examination), he was awarded a full presidential scholarship to study wherever and whatever takes his fancy.
Thing is, Kayshav told the Guyana Chronicle, he didn't even know what he wanted to become in life, or what specific career path he hoped to take. It was this uncertainty, he said, that drove him to write 21 subjects at CSEC.
He had it all worked out: he wagered that should he write that many subjects, chances were he just might surprise himself and do well in quite a few. After that, he reasoned, deciding on a career path would be a breeze.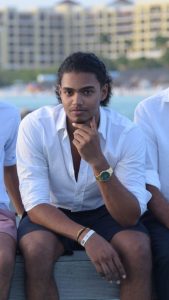 Turns out, the gamble did pay off, as he got 19 Grade Ones at the first sitting.
That done, the next hurdle was deciding whether to do CAPE or 'A' Levels, but torn though he was, he chose the latter, as he felt it was more internationally recognised.
Looking back, Kayshav said that never in his wildest dreams did he expect to do that well at CSEC; and not only in the sciences, but in the arts and business as well.
He said that had he only known, he would have written a lot more subjects. Just for the heck of it!
And according to his teachers, his performance at 'A' Levels was equally exceptional, as he aced all four of the subjects he wrote.
Modest to a fault, Kayshav said he could not have done it without the support of his parents, his siblings and a number of teachers who worked with him throughout his school life.
But of all the subjects he wrote at 'A' Levels, the one that caught his fancy the most is surprisingly not Maths or Physics or Chemistry, all of which he loves dearly, but Sociology.
To his way of thinking, Sociology allows for far more critical thinking than the other subject areas; it allows you to have better reasoning power and understanding of people.
As he explained, he has this passion for working with people and making a difference; and he feels that he can do that without getting into politics.
But that doesn't mean that politics is completely out of the picture, as he has plans of exploring a few avenues and opportunities through which he can work with and serve the populace, especially those right here in Guyana.
Said he: "I wanted to work with people, so I decided on sociology, as it allows critical thinking. You look at various viewpoints and suchlike, as it also teaches you more fundamentals than just the sciences. And I completely switched from the Sciences to Sociology, which is Law, Economics, and I stuck with the Maths."
The next move will be his Masters, as a first degree is just a stepping stone, the teen scholar explained. He also had no qualms about saying he wants to be wealthy, and to do that, he would have to study business.
And he has a very logical explanation for wanting to be wealthy.
"At this time," he said, "I want to do business administration; business is always a way to accumulate wealth. Wealth gives you power and influence; and that is how you can help others."
Asked what message he wanted to send other young people like himself who may be looking to make a difference in the lives of others and wanting to also excel at what they believe in, Kayshav said: "My message to young people is this: You don't need to have the best of grades to be smart; or to be good at Maths to be happy or excellent in grades to engage others. Everyone have their own strengths and that is what defines us and we have to find our strengths and weaknesses, our strength is what makes us who we are."
Asked how was it he was able to balance academics with a hectic social life, Kayshav said intelligence is not just about being able to read books and memorise them, but about being weighty, smart, funny and being able to read people's body language as well.