– Top disability student Anjalie Sookra
ANJALIE Sookra, the top Caribbean Secondary Education Certificate (CSEC) student for disability this year, depended heavily on the support she received from fellow classmates and her family. Having achieved good grades in all of the nine subjects she wrote, she is now pursuing a career that would put her in a position to assist others.
The 17-year-old Berbice resident attended mainstream schools and thus did not benefit from the provisions made available by the Guyana Society for the Blind, through its CSEC programme, for students who are blind or visually impaired.
Progressing through school on account of her disability was quite a challenge, Sookra recalled during an interview with the Pepperpot Magazine. She attended Tain Nursery and Primary Schools and Berbice High School.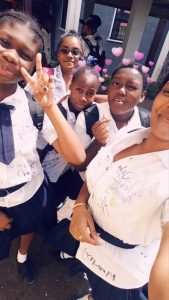 And, it was only a few months before she wrote the CSEC exams that her EDPM (Electronics Document Programmes and Management) teacher told her about the Guyana Society for the Blind and urged her to reach out to the institute.
"My teacher was concerned and told me about the Society. Ganesh (Executive Member Ganesh Singh) started calling and motivating me. He also promised to provide whatever I needed to write the exams and he did," Sookra related.
She said that Singh provided her with magnifying glasses, helpful computer software, along with a reader and scribe. Sookra is especially thankful for the scribe and reader since she could have hardly seen what on the exam paper.
She wrote nine subjects namely: English A and B, Mathematics, Social Studies, Science, Principles of Accounts, Principles of Business, EDPM, and Office Administration; and received two Grade Ones, three Grade Twos, and four Grade Threes. "I am very happy about my grades because I wasn't expecting any Grade Ones," she said.
Sookra, who started experiencing vision problems around age five years, said she sat at front of her class to be closer to the blackboard, so as to be able to see a little. She credits her classmates for helping her significantly when it came to writing notes given in class. "I don't know what I would have done without my classmates and I am so thankful." To read her notes at home though, Sookra had to place them up close in front of her face.
She is also grateful for the support she received from her immediate family members. According to her, dad Pradeep, mom Mohini and brother Sandeep all provided help to her in their own way. "My parents played a big role during my school years. They arranged for a special car to take me to school and bring me back home," she recalled.
Despite the help, Sookra recalled that some of the challenges she faced at times were feeling ashamed because everyone was sighted at school except her. "Everyone else seemed perfect except me. I felt like giving up at times and wanting to stay at home. I cried many days. It was quite challenging but I had a goal in terms of getting maximum marks. I was determined not to let anything hold me back in life. I have gotten over all those negative feelings and I now understand my life," she expressed.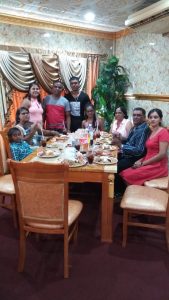 At the University of Guyana where she has embarked on studies in Social Work, Sookra said her aim is to be able to help others facing a similar situation as her. "I understand what it's like so I want to show them how to cope and that it's not the end of their life.
Meanwhile, in an interview with this publication, Ganesh Singh from the institute said he heard of Sookra a few months before she wrote the CSEC exams and did not delay in trying to get her certain provisions.
"The school was aware but the support wasn't totally there. Through the Exams Division at the Education Ministry and [I]; we were able to assist her during the exams. She was in a room by herself with better lighting, a reader and scribe and one of those magnifiers to help her," Singh related.
"She is very bright. She wrote nine subjects and got good grades. She topped. She is the top student for disability this year. I hooked her up with a scholarship and she's now at UG," he added.
Singh said this goes to show that even with a disability, anything is possible once someone is prepared to work hard.