AS Emancipation approaches there will undoubtedly be numerous events that celebrate the hard-won freedom of our African ancestors and Guyana's rich African heritage. Joining these events this year is the Emancipation Afrobeat Party "#cookup".
The party is slated for Saturday, July 28, 2018, from 20:00hrs on 704's Rooftop at the corner of Albert and Lamaha Streets. "#cookup" is being sponsored by MAKEDA and is the first ever event of its kind to hit Guyana, according to the store's owner, Aisha Haynes. The name "#cookup" was chosen for the event to represent Guyana's culture.
The dish cookup is rooted in African Guyanese culture and is very versatile and loved by all as Haynes noted. Cookup represents a mix and combination of traditional and modern, Africa and the diaspora. "And it is just delicious," Haynes added. "#cookup" will display the combining elements of its namesake dish by having a mix of music and dance from Africa and the diaspora.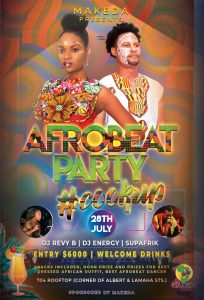 The Afrobeats sound currently dominates the airwaves in all music genres, as seen in Kes' "Hello", WizKid's "African Bad Gyal" (featuring Chris Brown) or the music of African artists like Davido, P-Square, Yemi Alado and countless others. The sound has fully mainstreamed and the resulting hits can be heard at events and parties and in commercials around the world. "'MAKEDA', the brand that encourages us to 'Express Yourself! The African Way!' has decided to bring this different event and provide an experience for all right here in Guyana," said Aisha.
"#cookup" will feature DJs from Nigeria, Toronto and Guyana, all of whom have been crowned the best Afrobeats DJs in their respective regions. Among them will be DJ Revy B, a female DJ who was voted the best in Afrobeats and made history as the first Afrobeats DJ to be featured on Seratocasts, SUPAFRIK, who are known for their popular Afrobeats parties and events like GUMBO which are held across North America, and the Party King/Soca King DJ Energy.
The event will also have actual cookup with a sampler station where patrons can help themselves to different types of cookup, all included in the ticket price. There will also be a selfie corner, Wakanda face painting and the MAKEDA temporary tattoo station. A culturally significant Akwaaba (welcome) drink, with included souvenir cup, will greet the first hundred persons who enter and there will be giveaways and prizes for the best dressed African outfit and best Afrobeat dancer. "This will be an event that is built on creating a unique experience and guarantees a good time during this Emancipation Season."
Tickets to "#cookup" cost $6,000 and can be purchased at MAKEDA, located at 146 Albert Street, Bourda, between Regent and Charlotte Streets. A portion of the proceeds will be donated to ACDA Youth Programmes.