– Felix dismisses as spurious opposition vote- padding claims
MINISTER of Citizenship Winston Felix has rejected insinuations that the present administration is allowing thousands of Haitians and Cubans to remain in Guyana and gain citizenship, so that they can vote at the upcoming 2020 General and Regional Elections.
Speaking with reporters during a break at Monday's sitting of the National Assembly, Felix declared that such a suggestion is "utter and complete nonsense".
He explained that figures provided recently by his office to the Parliamentary committee on foreign relations, have given a factual breakdown on the number of persons who arrived here as opposed to those who left legally. He said that it is just unfortunate that the remainder cannot be accounted for.
According to data provided by the Ministry of Citizenship to the bipartisan parliamentary foreign relations committee,there are no departure records to show for some 7,255 of the 44,747 Cubans who arrived here in 2017.
Also, of the 22,520 persons who came between January and April this year, some 6,170 have not departed through recognised ports of exit; neither have some 17,615 of the lot who came between 2013 to April 2018.
In the case of the Haitians, the records show an increasing number of them arriving here, but not departing through established ports of entry and exit. Of the 3,515 who came in 2017, only 291 left, according to departure records.
As for this year, between January and April, just 85 of the 1,238 who came officially left these shores. As a result of this, there are some 4,377 Haitians unaccounted for between 2017 and 2018.
Notwithstanding this, Minister Felix was quick to point out that it can be presumed that those who are unaccounted for through immigration records would have exited Guyana via "leakages", in its porous borders to the south and east by way of Brazil and Suriname respectively.
Felix sought to remind his audience that for years, efforts have been made to clamp down on the eastern border but without success. "People can enter and leave from any backyard in the Corentyne," the minister said, while noting that law enforcement officials are only able to operate on land, given jurisdictional issues related to the Corentyne River.
"In order not to aggravate the situation, we operate on land," Felix said, adding:"For me to tell you that I can't account for how the foreigners leave Guyana is partly true and partly untrue, because those two openings exist."
EASILY IDENTIFIABLE
He said that had those 4,377 Haitians who are unaccounted for through official means been in Guyana,they would have been easily identifiable given the sheers numbers and the fact that they speak French.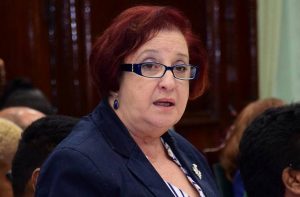 The minister, who was once a commissioner of police, expressed much disappointment with the utterances made by chair of the foreign relations committee, Gail Teixeira.
Noting that Teixeira, who previously served as a Home Affairs Minister, is aware of the challenges that exist vis-à-vis the country's porous borders, Minister Felix said:"For Ms. Teixeira to be writing the way she did is extremely surprising. To me, she is crying wolf in a crowded cinema,and the only thing that would do is cause injury to those who want to escape the law."
To quote Teixeira during discussions on the findings, "When you have a large number of people that cannot be found,then something is definitely wrong; we have to find out what is really going on."
During the last committee meeting, she said, "The issue is not who is coming and going; it's the issue of the numbers remaining and where you can't find them; you can't see them…This is trafficking! This is trafficking!"
But as Minister Felix pointed out, the influx of foreign nationals including Haitians who have not left Guyana through official means, has not resulted in "anything untoward".
"All the people do is arrive, spend some time, and leave," he said, adding that Haitians have been using Guyana as a transit point since the 1980s, whereby they overnighted and left the following day on Suriname Airways.
He noted, too, that Haitians have a large Diaspora in French Guiana, which ultimately is their final destination.
"The people from Haiti who transit Guyana go to that area to reunite with relatives, friends and so on," he said. "They are basically people who have been fleeing years and years of disruption through natural disasters."
NO MORE VISAS
Felix told the reporters that pretty soon, CARICOM countries are likely to remove visa requirements for Haitians as had been done by Barbados recently. "All of us would have to do that," he said. "Guyana has been most lenient to the Haitians, knowing the frailty of the rule preventing them from getting the visa.
"I know that we are in that direction; when the formalities are gone through, I am sure we will be doing it."
When asked by the Guyana Chronicle if he will be appearing before the Foreign Relations Committee next week, Felix said that once he is summoned, there is no earthly reason why he wouldn't.
"I will be attending; it is an irresponsible act to make Guyanese feel that foreigners from the Caribbean transiting Guyana are likely to cause some danger to Guyanese, when Guyanese are illegal in Brazil, Trinidad, Barbados, Antigua, all over the world," he told reporters.
The minister assured the media that his administration, through the relevant agencies, is doing its best to ensure that the consequences of the accumulation of mainly Haitians "do not spin off into trafficking in persons; people smuggling."
"We are alive and alert to the issues an accumulation of foreign nationals, legal or illegal, in a country can bring, and we have been acting on it whenever they present themselves at this time," he stated, while adding that it is because of the vigilance by immigration officials at the airport that Haitians have a thorough understanding of the requirements needed to enter Guyana.
Like his colleague, Minister of Foreign Affairs, Carl Greenidge said that there has been some confusion of issues relating to the movement of several sects of foreign nationals through Guyana. Minister Greenidge, who will also appear next week before the foreign affairs committee, said that across the region, there has been an unusual amount of movement which can be termed "irregular migration."
He reminded his audience that in the case of the Haitians,it was only recently, at the last CARICOM Intercessional meeting, that Heads of Government mandated the various heads to look at the laws which exist with respect to the treatment of Haitians.
WITH OPEN ARMS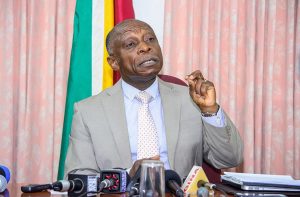 "When Haiti gained independence, it made it a point of public policy to open its borders to any Caribbean people and Africans landing on their shores. And that is since 1809. And we are today being prompted by comics around the place to take action against Haitians," Greenidge stated.
Again like his colleague, Minister Greenidge noted that Haitians come here enroute to French Guiana. "I don't know where the committee could have arrived at the conclusion that there are hundreds of Haitians coming here and hiding," he said. "Where are they? They are such a big population that if 20 people appear in GT, everybody knows what their name is; whose house they are staying at; and what they ate."
He described the concerns raised over the numbers of Haitians who have not left these shores through legal ports as "melodramatic", while adding that this is nothing new.
The Foreign Minister reminded, too, that Guyana has long had an issue of properly monitoring its porous borders.
Said he: "They can leave here without reporting; you know, backtrack! If there is that facility, you'd have one number for persons coming in and those leaving differing… All of those are known to members of the Committee; and they really shouldn't be bothering me with that at this point in time.
"That is a known inadequacy of our management of these things."
He told reporters that the issue of increasing numbers of Venezuelans here is different, in that there has been a discussion on the increase in their movement across the region, so the situation is not peculiar to Guyana.
"Guyanese public as well as others have called on us to bear in mind that in the light in the circumstances in Venezuela, we have to treat with this matter in a humane manner," said Greenidge, who noted that being cognisant of the fact that persons are facing many difficulties, there is a need to be flexible.
"We have not changed any laws, and the requirements as regards entry are as the ministries agreed recently," he stated, as he called on persons to exercise caution with the publishing of statistics on persons entering Guyana, while reminding that backtrack has been in existence for a number of years.
NO WAY OF KNOWING
He said the extent of backtracking is unknown. "We have no means of monitoring all the exits," he said. "They are leaving from registered ports and from other places. If you put every Guyanese every other mile along our borders, you are still not going to be able to stop persons coming in undocumented.
"It is one of the realities in having a small populace and extensive borders; you can't stop it."
Nevertheless, Minister Greenidge assured that his government will continue to act in a responsible manner as it relates to foreign nations arriving here.
"…you can't wake up one morning and suddenly be self-righteous…when we send people across borders," he stated.
The Minister noted too that the matter has been discussed at several levels and efforts will be made to agree on mechanisms to see how persons moving without documentation or who are seeking to move in circumstances that are unusual can be accommodated without putting Guyana's security at risk.