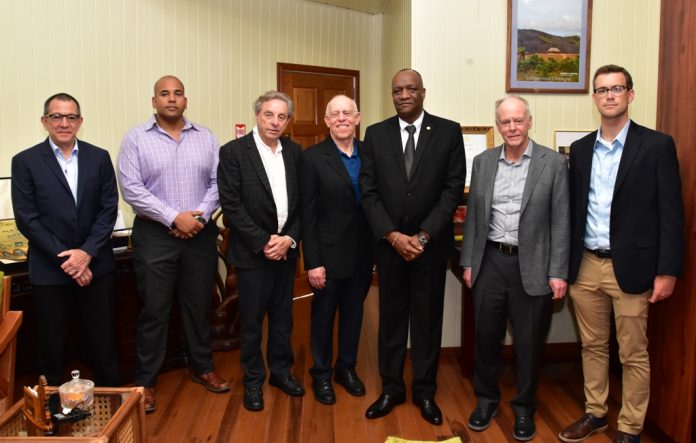 -Government committed to creating strong investment climate -Minister Harmon
American warehouse firm, PriceSmart is exploring investment opportunities in Guyana.
According to the Ministry of the Presidency (MoTP), Minister of State,  Joseph Harmon on Wednesday received a courtesy call from Founder and Chairman of the Board of Directors of PriceSmart Incorporated,  Robert Price as well as other board members, who are in Guyana to explore opportunities for investment. 
 Minister Harmon, who met with the team during a break from this week's Cabinet meeting, in his welcoming remarks , said that Guyana remains open for business. He said that the Government will continue to ensure that the right conditions are put in place to promote Guyana as an investment destination. 
"I consider this to be important because anytime we have foreign investors coming to Guyana, we consider that to be an important enough event for the Minister to disrupt his usual schedule to ensure that you understand that we welcome investment in Guyana and that we fully support your investment. It is important enough for me to take time off from Cabinet to meet with you. I want to welcome you and you will find that while we are not as advanced as the other countries where you operate, you will find a willingness on the part of our people to work with you and on the part of the Government to create favourable conditions for businesses to succeed," Minister Harmon said.
 Price, in an invited comment, said that the company is cognisant of the fact that Guyana is poised for a prosperous future and as such, consideration is being given to the setup of a location here.
"We are very, very interested in exploring the opportunity of locating PriceSmart in Guyana. We have to do our due diligence but we hope we can eventually have a PriceSmart in Guyana. We have PriceSmart in the English-speaking Caribbean and we think that given the future prosperity in Guyana, that it is time to consider locating here," he said.
Price was accompanied by his son and President of the company, David Price, Executive Vice-President, Brud Drachman, Leon Janks, Board Member and their local contact,  Andron Alphonso.
The California-based firm  operates 40 membership warehouse clubs in 12 countries and one United States territory. The company recently entered the South American region with clubs in Colombia.