By Shirley Thomas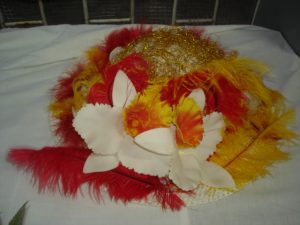 THE Salvation Army on Monday held its Annual Easter Egg Rally at its Citadel headquarters, South Road and Alexander Streets, where some 3,911 eggs were presented for distribution to senior citizens homes, the destitute and other needy people during the Easter season.
Well attended, the rally attracted more than 200 enthusiastic women from Guyana's Divisional Home League, as well as its League of Mercy, with the latter seeing representation from both male and female members.
The grand event which brought together representatives of all nine Home Leagues in the Division, is an annual feature through which the various Home Leagues, leading up to Easter Week, stage an egg collection competition, amassing eggs for distribution to needy persons and senior citizens' homes, the Divisional Director of Women's Ministries (DDWM), Major Mireille Saint-Lot told the Pepperpot Magazine.
Major Saint-Lot said the eggs are collected either from business persons, friends, family or others donors, including out of pocket from the very Home Leaguers. They are taken to the Egg Rally which is held before Good Friday, where they are blessed and displayed before the congregation, for subsequent distribution to the targeted recipients.
Closer to Easter, Home Leaguers visit the institutions where they distribute the raw eggs, but for those at the roadside and otherwise destitute and lacking facilities to cook, the eggs are cooked and served. "We have a few selected homes that will be covered by some of the Corps and those include the Salvation Army Women's Home, the Palms, the Dharm Shala, Archers Home, the Gentlewomen's Home, the Byers Home, apart from the destitute on the roadside," she said. "In all…we collected 3,911 eggs and we were thankful for that. We know that those eggs will do well to those people who will receive them."
EASTER HAT COMPETITION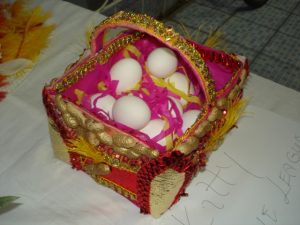 The other component of the show was the "Easter Hat" competition which brought out women's talent at its best. There was much hype and a high degree of creativity, ingenuity and keen competition. This saw women incorporating various versatile and non-traditional materials to come up with interesting hat creations. It was a wonderful platform for women to find expression for their creative abilities.
The three top prize winners were: Vergenoegen – First Place; East Street/Queenstown – Second Place and New Amsterdam as the Third Place winner. "It was a very hot competition. There were three judges who were pleased to see the work of the ladies and how they displayed the hats. Even though there had three top winners, I would say everyone was a winner and we all felt a sense of pride," Major Saint-Lot said.
It was a packed programme where the ladies sang, danced, modelled their hats, shared testimonies and told of how they are going to distribute their eggs and the joy they have in doing so. All in all, it was a great event, and we are very grateful for all those who were in attendance," the DDWM gratefully acknowledged.
THE LEAGUE OF MERCY
"The League of Mercy is the group that really reaches out to the needy. They are the ones who will visit shut-ins; who will go if somebody is unable to clean up – they will go and help do that for them; comb their hair, give them a manicure and pedicure; see that they take their medication," Maj. Saint. Lot said.
Noting that the Home Leaguers are also very much engaged in visitation, she outlined that they also do home visits and generally help the shut-ins do essential things they cannot do for themselves, such as writing a letter to a loved one, or even showing those with cell phones how to use Whatsapp, so as to keep in touch with their loved ones.
THE HOME LEAGUE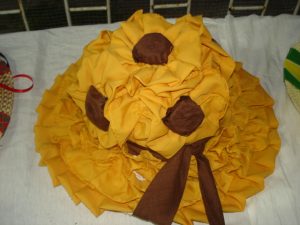 The Home League, on the other hand, is a group that reaches out to those who cannot perform vital services for themselves. But unlike the League of Mercy, it is comprised strictly of women. All services are administered by women, particularly since the persons to whom they reach out are essentially aged women.
"Basically, the Home League is a Women's Developmental entity which helps to grow women. If they do not have a skill, by joining the League they can be taught interesting things: how to cook; grassroots technology; how to use their hands; Art and Craft. They are trained about how to take care of the household and so on. These are the main things that we do," Maj. Saint Lot said.
Membership of the Home League is not exclusively for soldiers of the Salvation Army. It is non-denominational and open to women who need to develop a skill or who have marketable skills and want to share them with other women in the groups. The qualifying age for admission to the Home League is 13.