FOR over two decades now, the Denise Institute of Catering had the distinction of being the only private institution in Linden to provide a well-rounded academic education to both young girls and mature women.
Looking back, founder and lecturer, Ms Denise Gordon said she opened the school after becoming pregnant with her eldest daughter and had to quit her job at Mackenzie High for health reasons.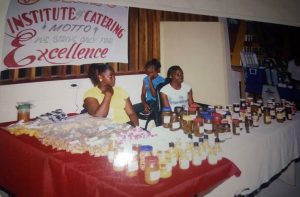 After a year, she decided that she will work at home; and having the skills as a Home Economics teacher and caterer, she decided to commence some night classes to facilitate crash courses for older persons.
"A lot of persons kept calling in and so on, so I decided to do both the day school and the evening classes," Ms Gordon revealed. The day school ran as a one year programme, after which a graduation would be held and the graduates would either be assisted with recruitment or establishing their own businesses. The students also had the opportunity of sitting a maximum of four subjects at the CSEC level, namely English Language, Home Economics, Home Management and Social Studies.
"We would also do a basic Maths, because you know, as a caterer, you have to know to calculate," she said.
Her first intake in 1995 was 20 students, and while she targeted school drop-outs and those who were not academically inclined, as time went by, other students, after successfully finishing secondary school, would also attend classes.
Over the years, the Denise Institute of Catering has certified close to 2000 students. The night classes, however, facilitated working persons who would only focus on the recipes and short courses such as cake decorating.
Describing the journey over the years, Ms Gordon said she has garnered much successes despite holding the school up with little financial support.
"It was good, but the only problem was the payments; and because of that, I have not had day school for two years.
"I have a lot of money outstanding, but I want to start back in September."
In the absence of the day school, she kept the night classes going, and also used the opportunity to commence production of her own jams and jellies. Those products are manufactured and packaged right at the school, located in Niotgedacht, Mackenzie, and are distributed not only in Linden but also in Georgetown.
"I do a variety of flavours, and I use local fruits; I try not to put anything artificial in it," she said, adding that the Guyana Marketing Corporation would assist with packaging and distribution.
Denise's dream is to reopen the day school in September, given the many successes she's had over the years. "I had children who got Grade Twos and Threes and I feel really good about these students, because some of them really went down low.
"I have a student right now who is at the Cyril Potter College of Education; I have a student working at the Carnegie School of Home Economics; I have students who went to the Caribbean as well, and even opened up their own businesses," she said.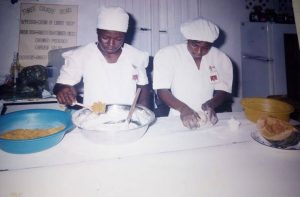 After graduation, the students would be placed at different institutions for work study, such as the Pegasus and Ocean View hotels.
The Denise Institute of Catering has also won scores of trophies at various science fairs and competitions for innovative dishes with fruits and vegetables such as breadfruit, fat pork, jack fruit, ite etc.
The night classes offer courses in meat, fish and rice preparation, cake decoration, pastry making, fabric designing, floral arrangement and hospitality management.