IT'S her first visit to Guyana, and she couldn't help being blown away by the beauty of Linden and the hospitality of its people.
And the food, of course!
Lauren Hosannah, who, because of her father's roots last year represented Guyana in a beauty pageant in her native United Kingdom and won, was taken on a tour of Linden on Tuesday.
The tour was organised by Linden Mayor, Mr Carwyn Holland, who untook to take her around to such places of interest as the Mackenzie High School, where Lauren, who's here on holiday, met with students preparing to write their end-of-term examinations and gave them a little talk on how to be successful.
They, in turn, seized the opportunity to ask her help with acquiring some much-needed computers and books for the school, to which request she readily and graciously agreed, and promised to address as soon as she returned to the United Kingdom.
She was also taken to see the Linden School for the Differently Abled, where she not only interacted with the students, but made a generous monetary donation towards the upkeep of the facility.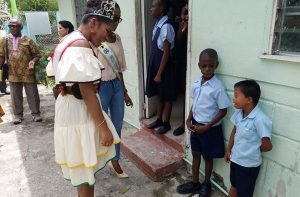 She was later introduced to the delegate who will be representing Region Ten (Upper Demerara-Upper Berbice) this weekend at the Miss World Guyana Pageant at the Marriott Hotel, who was no doubt delighted to glean a few tips about pageantry from her.
Lauren, whose sojourn here is part of the perks of taking the coveted Miss Guyana UK 2016 title, said:
"I really want to make a difference in Guyana; I've made quite a bit in London, but now it is nice to actually come back to my hometown to do some charity as well." Hosannah said, adding that she also made donations in the village of Victoria, where her father comes from.
She explained that while she was not born here, she somehow feels a real affinity with Guyana, since her was born and raised in the village of Victoria, on the East Coast Demerara.
"Growing up," she said, "I only knew what my father had told me, so it's nice to be here first time and experience Guyana for myself and the rich culture."
And now that she has the UK title under her belt, Lauren, who aspires to become a psychiatrist, has plans of competing in the Miss Guyana World Pageant in the near future.
Mayor Holland said he was delighted at having her as his guest, even if it was only for a day, and was particularly pleased that she was able to experience the wonders of Linden, such as the beauty of Richmond Hill.
"I think she was great encouragement for the youths and children of Linden; it was great having her," he said.