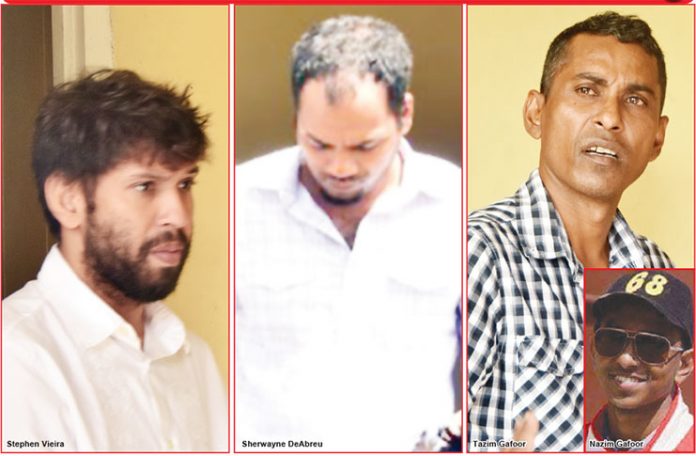 -cocaine-in-timber suspects were on CANU radar for three months
-15 witnesses to testify
AFTER three months of surveillance and investigation by the Customs Anti-Narcotics Unit (CANU), four persons were charged on Wednesday in connection with the $550 million worth of cocaine found in lumber at a sawmill in Zeelugt, East Bank Essequibo a few weeks ago.
Biker, Stephen Vieira; motor racer, Nazim Gafoor and his father, Tazim Gafoor, along with Sherwayne DeAbreu appeared before Magistrate Rushell Liverpool at the Leonora Magistrate's Court, charged with trafficking narcotics.
Vieira, 33, of Middle & Cummings Street, Georgetown; Nezim Gafoor, 20, and businessman Tazim Gafoor, 49, both of Menzies Street, Windsor Forest, West Coast Demerara, and Drug Enforcement Officer attached to Guyana Revenue Authority (GRA), Sherwayne DeAbreu of Section 'A' Liliendaal, East Coast Demerara, all pleaded not guilty to the charge.
It is alleged that between March 1, 2017 and May 12, 2017 at Narine Lall Enterprise Sawmill at Zeelugt, they aided Hakim Mohammed to traffic 84.986 kilograms of cocaine.
A fifth suspect, Narine Lall has been charged separately in absentia with trafficking in narcotics.
Attorney Latchmi Rahamat represented Vieira, Attorney Stanly Moore represented Nezim Gafoor, and Attorney Everton Singh-Lammy represented Tazim Gafoor, while Attorney Mark Conway represented DeAbreu.
Attorney Rahamat told the court that drugs were not found in her client's possession since he was in Jamaica preparing for a race meet during the time of the alleged drug bust. She said Vieira willingly returned to Guyana after CANU issued an arrest warrant for him. Rahamat further stressed that Vieira had no knowledge, control or possession of the drug, which are key elements in the charges.
The three other lawyers argued on the same grounds as Rahamat during their bail application. Attorney Moore pointed out that Nezim Gafoor suffers from epilepsy and was hospitalized during the time of the investigation.
THREE MONTHS OF SURVEILLANCE
But CANU Prosecutor, Konyo Sandiford objected to bail, based on the seriousness and penalty attached to the charges. Sandiford further revealed to the court that investigators have three months' worth of surveillance footage on the four accused along with evidence by Hakim Mohammed, who cooperated with CANU. The court also heard that there are some 15 witnesses who will testify on behalf of CANU.
The Magistrate ruled in the prosecution's favour and remanded the men until June 12, 2017. Vieira had appeared in the Georgetown Magistrates' Court earlier this month following his arrest at the Cheddi Jagan International Airport (CJIA) but he was released after an arrest warrant for him was discharged.
The charges come just a few days after CANU indicated that the agency is seeking international assistance to retrieve video footage that had been wiped from a Digital Video Recording (DVR) that was seized from the suspects.
CANU agents had suspected that there was evidence on the device that would further link the illegal substance to the five suspects. CANU had focused attention on the suspects following the discovery of some 84.986 kilograms (187 pounds) of cocaine worth $550M in lumber at the Lot 227 Zeelugt, East Bank Essequibo premises of Mohamed.
The bust was made just as the lumber was being packed into a truck. CANU ranks had searched a truck laden with several pallets of 1×6 dressed lumber boards prepared for export. Several pieces of boards were drilled randomly by the ranks and revealed a whitish substance.
The lumber was packed at a sawmill located at Lookout, East Bank Essequibo belonging to Narine Lall, to be transported to a wharf in Georgetown and then shipped to the United States of America.
Vieira was listed on the shipping documents as a representative of the shipper, Narine Lall.