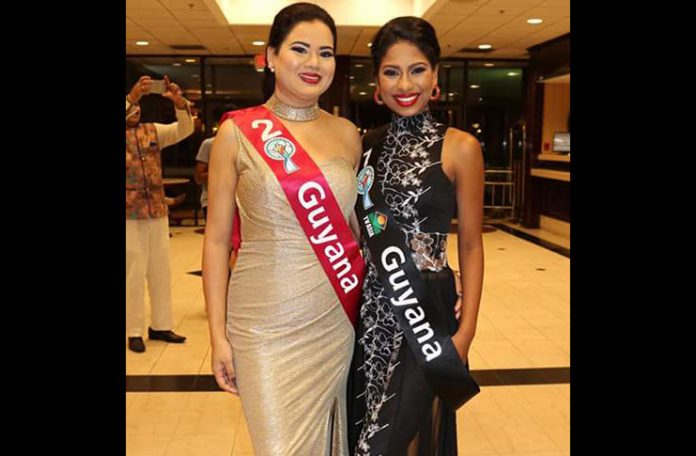 -while Samantha cops 'Best Smile' in Mrs India Worldwide pageant
GUYANA'S Brittany Singh made it to the top ten of the Miss India Worldwide 2016 pageant, also scoring the 'Miss Photogenic' award, while Samantha Singh copped the 'Best Smile' prize in the Mrs. India Worldwide 2016 pageant which were both held at Royal Albert's Palace, Fords, New Jersey on October 9.Brittany's talent piece featured an Indian, Hip Hop fusion dance number, and was a big hit with the crowd and judges.
The 19-year-old rocked the stage in a harem pants and a hoody ensemble, dancing to a music-mix that included beats from "Holi Ka Din Hai", DJ Snake and Lil Jon's "Turn Down For What", also "The Power" by Snap! Her dance was choreographed by Euphoria Dance Group member, James Lomonga.
This along with her performance in the Indian and Evening Wear segments helped to catapult her into the top ten of the total 30 delegates that participated in the event. However it was not enough to get her into that fated final five, from which USA's Karina Kohli eventually emerged the winner. Nonetheless, Brittany's top ten was quite the achievement as it marked the first time in four years that a Guyana representative made it into the top ten.
Mrs India Worldwide
Meanwhile, competing against 12 other women in the inaugural edition, Samantha failed to make it through in the Mrs. India Worldwide pageant, which also featured an Indian wear, introduction speech and question/answer segments. The Mrs India Worldwide title also went to the USA's Namita Dodwadkar.
"It's bitter sweet but that's what it is when it comes to beauty pageants, you have to run with the sweetness and then just way to disappointments," was Derek Moore's take on things. Derek is the Pageant Trainer for the Miss India Guyana Organization, which is the franchise holder in Guyana.
Moore designed the Indian wear for both ladies, while Brittany was decked out in a Jason Shurland blue green, rhinestone encrusted gown for the Evening Gown segment, while Samantha donned a Randy Madray red off-shoulder, fish-tail dress.
Franchise holder/National director for Guyana, Uma Bux was saddened by the girls' not winning their respective pageants but was proud of their performance.
"I am extremely happy, proud and beyond thankful. The girls worked hard, both of them, especially with such a short time to prepare. They made us proud and did their very best, the stood out every day and at every event. In our eyes they were both the epitome of perfectness.
"I know personally they worked extremely hard behind the scenes during the week of competition and the weeks before heading to the US, we were step-by-step with them throughout it all. I'm even more grateful that under our directorship, after 4 years, we placed in the top ten at our first try. Next year we are going for top 5 and the crown, the new queen will have a longer time to prepare for the international leg," Bux said.