THE Guyana National Stadium will be the battle ground for tonight's final of the Georgetown Football Association (GFA)/Banks Beer Cup between Western Tigers and Riddim Squad. With $2M on the line, fireworks are expected when the two teams collide for the coveted title. Western Tigers advanced to the final following their dominant 3-0 win over New Amsterdam United while Riddim Squad edged the youthful Santos FC on a nail-biting 3-2 penalty shootout when the semi-finals were held at the GFC ground on Wednesday.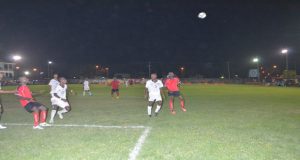 Of the two finalists, Western Tigers have been most dominant throughout the tournament and forward Randolph Wagner believes that his West Ruimveldt unit have what it takes to cart off the title.
"Western Tigers are ready, we are prepared to play anyone," exclaimed the team's head coach Anthony 'Lambada' Stanton.
Stanton, a former national stand-out and also a foundation member of the Western Tigers team from yesteryear, noted that "finishing is the main thing (we worked on). Finishing is everything."
Meanwhile on the other side, the Riddim Squad captain Sceyon Hope added that in their 3-2 penalty win over Santos, the side had played without two integral players and hoped that they would be back in time for today's final.
"As in any final, nothing comes easily, you have to work for it; and it's a final and you know Western Tigers got good players and they would never ever stop until the last whistle, which we intend to do too; play hard football and play with a positive mind," Hope said.
He told the media that should these players not return, the coach will have to come up with another plan in order for them to hoist the trophy.
Meanwhile third-place action will bring together an interesting game between Santos and New Amsterdam United.
The runners-up will take home $1M and a trophy while the third- and fourth-place teams will carry home $500 000 and $250 000 respectively.
The first game (third-place playoff) will take place at 18:30hrs while the final will commence at 20:30hrs. Jamaican Dancehall superstar will also be performing live at the after-game concert.