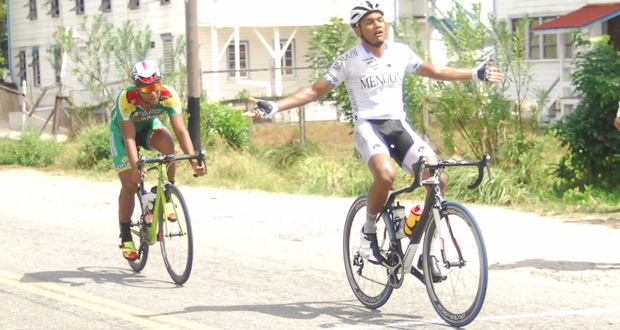 Greaves wins fourth stage; Colombia's Ospina still leads overall
By Michael DaSilva
Roraima Bikers' Alonzo Greaves returned a two hour, 25 minutes 20 seconds time in winning the fourth stage of the National Sports Commission (NSC) sponsored `Tour of Guyana ' Five- Stage cycle road race yesterday on the Essequibo Coast.However, going into today's final stage, Colombian Carlos Ospina of Team Coco's holds the overall lead in the grueling event which attracted 49 starters on Thursday last.
Ospina won the first stage which started at Corriverton, Berbice in one hour, 37 minutes 58 seconds, placed fifth in stage two which started at Rosignol on Thursday also and concluded on Carifesta Avenue with a time of two hours, 23 minutes .02 seconds.
In stage three which was started a Wales, West Bank Demerara and ended at Bushy Park, East Bank Essequibo, Ospina placed second to Raynauth `Obeahman' Jeffrey returning a time of 57 minutes 13 seconds
In yesterday's fourth stage which started at Supenaam, proceeded to Charity and returned to Suddie for the finish, Ospina had to settle for third behind Greaves and Williams respectively in a three-man sprint after the trio broke from the pack on the downward journey. The Colombian clocked two hours, 25 minutes 20 seconds.
When the fourth stage started, there were several mini breaks and at the turn back point at Charity, Barbadian Marloe Rodman and his fellow Barbadian Darren Matthews went on a two-man break and opened a 90 second lead on the pack.
However, at Anna Regina, Raul Leal of `Team Gillette Evolution broke from the chasing pack and connected to the leading duo and shortly after, Geron Williams, Greaves and Ospina connected.
Matthews was subsequently dropped and shortly after Rodman felt the pace and heat too much for him and he too was dropped, leaving Greaves, Williams and Ospina in the lead and the trio stuck together until nearing the finish when Greaves went into overdrive followed by Williams.
Greaves went on to win by approximately one length from Williams with Ospina two lengths further afield.
Today's fifth stage which Starts at 08:30hrs from Kara Kara, Linden is expected to be a thriller with the top contenders for the top six places being Ospina, Leal, Hamzah Eastman, Greaves, Williams and Matthews who have all been in the limelight of the three days of racing so far.
Ospina's overall time to date is seven hours, 23 minutes 11 seconds (7.23:11), Leal's time is 7.24:04, Eastman's time is 7.24:16, while Greaves, Williams and Matthews' times are 7.25:58, 7.26:01 and 7.26:48 respectively.
It is not known as yet how many cyclists will face the starter at Kara Kara, Linden Highway for the journey that will end on Homestretch around 10:45hrs after a distance of 64.5 miles.