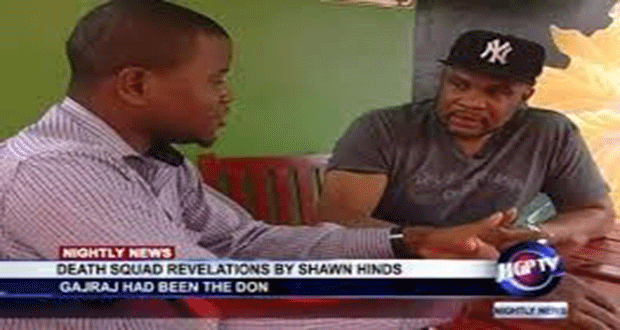 SELF-CONFESSED death squad member Sean Hinds said he is prepared to turn himself into the police but only in relation to the 'serious offence' investigators want him for. Hinds, who spoke exclusively to Travis Chase of HGP TV Nightly News said investigators cannot question him on his recent unraveling of the underworld since former members of the 'death and phantom' squads would be the one interrogating him.
"How could they question me and dem and I worked together, I know how wicked they be," Hinds told HGP Nightly News.
Hinds is alleging that the Police Force still has top members of its command who were part of the former Home Affairs Minister Ronald Gajraj formed 'Death Squad' and if the force is interested in solving old crimes that took place more than a decade ago, they should be stripped of their rank and be questioned as well. "Now when the sh** hit the fan, me alone getting charge or they want to question. What about the others who still in khaki, I know dem bannas," Hinds told Chase in the interview.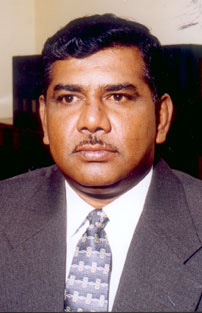 The former 'Death Squad' member said that three deadly squads operated within the Guyana Police Force, the black clothes, Phantom and death squads. He even sought to clarify the difference between the three squads.
Travis Chase: "What is the difference between the Phantom and the Death Squad?"
Shawn Hinds: "Wah's de difference, it simple, one was run by a well-known businessman and the other was run by Gajraj, but a could tell you, one was more powerful than one."
Chase: "Who is the businessman?"
Hinds: "Everybody know he, I ain't got to say."
Chase: "Alright then, which one was more powerful?"
Hinds: "Of course the one that was run by the businessman."
Hinds said in his three-hour-long interview with the Nightly News anchor/reporter that – he was part of a Death Squad. He said that most of the orders of 'a hit' came from former Home Affairs Minister Ronald Gajraj. But Hinds said he never spoke to Gajraj directly. "I know Gajraj was de boss, but I never talk to the 'big man' directly," he said.
He said the orders came from the very top with instructions of which type of gun to use on the victim and how to carry out the hit.
Between the 'Phantom and the Death Squads', they are responsible for the disappearance and murders of a number of men between 2002 and 2010, some of the men who disappeared have not since, been located.
Hinds, obviously has knowledge of where some of those shallow graves are but wants to know "what's in it for him" should he start naming locations and calling other names who were directly involved.
Chase: "You know very well that the squads killed a lot of young men and some aren't found yet; where were the bodies buried?"
Hinds: "Ah glad you ask that, Travis, I could take you wayyyy back you know, but like I said, what's in it for me? These people don't want to solve crime, get the others who now in Khaki, they could tell you to."
According to Hinds, once he turned himself into the Police and they attempt to charge him for a crime he did not do, he will reveal evidence that could indict former top officials and some serving members of the Police Force.