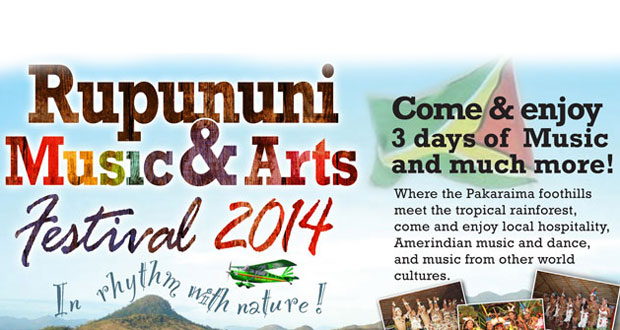 FROM February 14th – 16th, Guyana will see the dawn of a new musical masterpiece as the Amerindian Village of Annai launches the first-ever Rupununi Music and Arts Festival. 
Expected to become an annual event, the music festival aims at boosting Guyana's tourism sector through its exhibition of local arts and crafts and other cultural presentations.
The event will see performances from international artistes such as Keith Waithe (Guyana/UK), Marc Mathews (Guyana/UK), Filligar (USA), Drew Gonsalves (Canada), Aref Durvesh (UK), Chris Murtagh (UK), Ramon Goose (UK), Namvula (Zambia/UK) and Muha (Ukraine/UK).
And several local artistes will also make appearances, including Desmond Atherly, Desmond Atiwell, Trevor Rogers, Ras Camo, Tadja drummers and Raghu's Tassa, Surama Cultural Group and Buxton Fusion.
The purpose of this event, according to Festival Director Bobb Ramdhanie, is to celebrate and promote Amerindian culture, while complementing the weekend with local entertainers and artistes from around the world.
The event will seek to create local employment for residents of Rockview and Annai villages even as it brings all regional communities of the Rupununi together.
Benabs Available
Of course, there would be many available benabs that can accommodate visitors, thus affording them the luxury of dining, playing, and enjoying lulling music under the stars.
Packages for accommodation include weekend tickets at US$140 per adult and a day ticket at US$50. For young adults between the ages of 13-18, weekend tickets cost US$65 and a day ticket would cost US$25.
Annai is home to the Rock View Ecotourism Resort, an old ranch built in the 1950s. Rock View is a good base for trips to the Iwokrama Canopy Walkway. Off the Rock View premises there's a lot to do too. If hiking and the more physical stuff is your thing you may want to try the nature trails that have been cut into the foliage of the Pakaraima foothills or climb the naked foothills and get a panoramic view of the savannahs sprawling before you.
(By Ravin Singh)