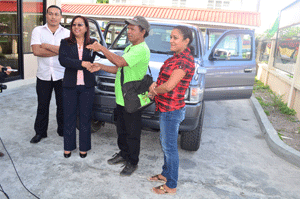 CUSTOMS Anti-Narcotics Unit (CANU) was yesterday given three vehicles valued $16.8M to boost their mobility by Minister of Home Affairs (MOHA), Clement Rohee.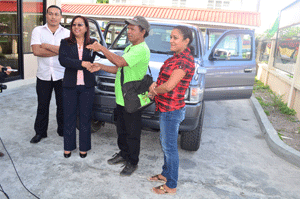 Minister Rohee in brief remarks yesterday said that now that CANU comes under the MOHA and not under the Ministry of Finance as previously, his ministry procured the vehicles from the 2012 Budget to improve CANU's capacity.
He stated that they are pleased to roll out capacity-building programmes to equip CANU with the resources for its ranks to effectively and efficiently carry out their duties.
Rohee added that since CANU has a serious national responsibility and is the only organisation in Guyana that is outfitted to carry out actions under the Customs Act and also falls under the umbrella of the Guyana Revenue Authority (GRA) and the Task Force that comprises law enforcement agencies that sit at the MOHA, it is quite fitting for them to have vehicles to boost their mobility.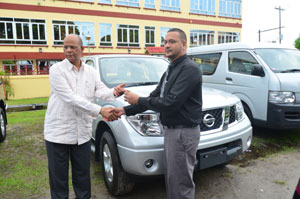 The minister stated that the vehicles will be used by the ranks for various drug enforcement activities and he is hopeful that there will be more convictions. They will also be looking at their human resource in an effort to provide more assets so that more operatives can be employed because CANU has a serious role to play.
On hand to receive the keys of the two 4X4 pick-up and a 'pit bull' minibus was Head of CANU, James Singh who lauded Rohee for his support to CANU in its operations and capacity boosting. Singh added that the much needed vehicles will be used by ranks to carry out their duties.
The Guyana Police Force (GPF) and the Guyana Prison Service (GPS) also received fleets of vehicles to enhance their mobility as well.