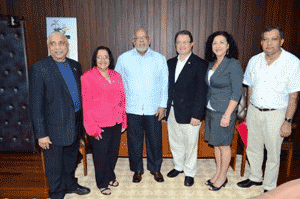 OFFICIALS of the Guyana Burns and Healthcare Charitable Foundation Inc, (GBHCF), and the York and Richmond Hill Municipalities of Canada that generously donated two ambulances to the Georgetown Public Hospital Corporation, paid a courtesy call on the Head of State yesterday.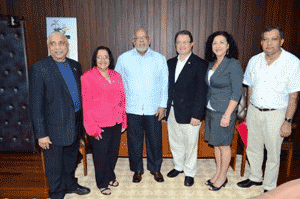 The ambulances, one of which will be dedicated to President Donald Ramotar for use at his discretion, will include life saving devices and a team of qualified paramedics who are at present undergoing training.
"When an ambulance responds to a call, there is not just a driver and a porter," President of the GBHCF Inc., Harry Harakh who was part of yesterday's meeting with the President, said in an invited comment to the Government Information Agency (GINA).
In 2000, a Memorandum of Understanding (MoU) was signed with the then Minister of Health and Chairman of the hospital board, Dr. Leslie Ramsammy for the establishment of the Burns Care Unit at the GPHC and subsequently, the GBHCF came into effect.
Since its formation, it has been involved in a number of philanthropic ventures in Guyana, the most recent being on November 27 when a team of 10 visited the Cheshire Home with an 18-seater bus that was donated four years ago.
The completion of the refurbished burns care unit over the last 12 years has impacted more than 1100 in and out-patients and their families where mortality rates as published by the hospital shows a betterment of 40 percent for severely burnt victims, Harakh said in a letter published in the Caribbean North 2012 booklet.
At the GPHC, the organisation has been a facilitator of nurses' training and recently made a nursing instructor certified by the Canadian Paediatric Society, available for theoretical and practical training.
Participants who have been proven competent were awarded certificates and registered by the Canadian Paediatric Society. The names will remain on the register of a period of two years, Harakh said.
York Region located in the city of Richmond Hill donated the two ambulances to the Foundation through the initiative of the Deputy Mayor Vito Spatafora.
Spatafora who accompanied Harakh and Chief Executive Officer (CEO) Michael Khan to the meeting had joined Chairman of York Region, Bill Fisch at the handing over of the ambulances on November 26.