Guyana has many personalities and people who have put the country on the world stage ever since we became independent.
These were sentiments expressed on occasion to honour Rudy (Boysie) Bishop, a musical icon, legend, and leader of the Chronicle Atlantic Steel Orchestra. The Pepperpot Magazine sat down with the musical legend to discuss his life, music, and legacy.
Rudy Bishop M.S is a man and a movement. He is actively pursuing life goals, and as he puts it, "neither chronological nor biological circumstances can derail" them.
"Cap", as he fondly called, which is the abbreviation for captain, is the first son of 14 siblings and was born on February 5, 1945, in Kitty in the capital city of Georgetown.
Bishop told us that he was just a teenager when he developed his natural talent for music.
"From the first time I heard it, I developed a natural affection for steel band. I could resist the urge to embrace the pan, as the medium through which I couldn't express my power, purpose, and presence in this life. I grew up at a time and in a culture where my parents decided their children's professional pursuits," Bishop recalled.
Bishop shared that though he was encouraged to follow his dreams as a pan-player, his father had preferred him to have a sound academic education for his son's security.
The music legend noted that when conflict often developed, he was flogged for opposing his father's strict guidelines against his compulsive association with the steel band. However, the music legend managed to preserve his passion.
According to him, he pursued his passion and became an arranger, composer, director, and creative genius.
He played Guyanese folk music, regular pop songs, and international classical pieces all on the pan.
Rudy recalled that it was his exceptional abilities and skills in pan music that led him to a swearing-in ceremony at Parliament, where he was sworn in as a cultural representative and subsequently received the Medal of Service award.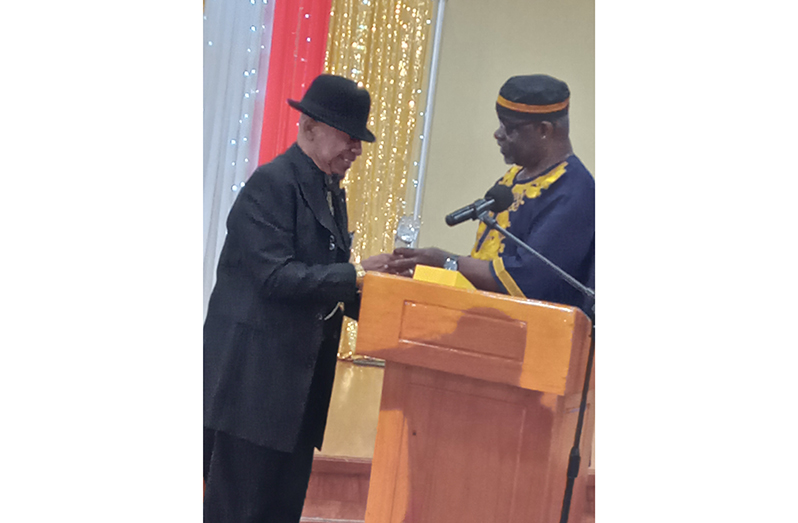 Honoured at a simple ceremony
Recently, Rudy Bishop was honoured as he celebrated 50 years in the music business. Among them was a veteran broadcaster and proprietor of Guyenterprise Company, Vic Insanally, who recalled the days of Bishop and himself growing up in Pike Street, Kitty as small boys.
"To me, tonight it is like a reunion of seeing someone who has done so well come back and celebrate with us. Boysie, my friend for so many years, just like Eddie Grant hails from Plaisance, Boysie hails from Kitty.
In those days, when the train was running, it made two stops, Plaisance and Kitty, when the train left its terminal at the corners of Lamaha and Carmicheal Streets," Vic recalled during his recount of the good old days.
He recalled that when he went to live in Kitty with his mom and six siblings, he became closely knitted together with Boysie, who lived not too far from him with his family. Boysie's family comprised 14 siblings.
Vic recalled that there were hard days but happy days, and everything that was needed was provided.
Vic's recollection of Boysie was that he came from humble beginnings and a very religious family.
The name Atlantic came because Bishop used to practice with the band on the seawall, Vic noted during his recollection.
Meanwhile, Former Mayor and, at that time, Guyana's Prime Minister, Hamilton Green, also shared some memories of growing up with this music legend.
"Rudy came to my attention many years ago when the steel pan was regarded as a second-class function. Rudy took the steel pan to a higher level; he introduced what he called the brass and steel, but Rudy's vision resulted in music of tremendous beauty and universal acceptance. Rudy and others produced music that has brought to people in every continent of the world," Green noted.
In his acceptance speech, Rudy noted that sports and culture have no allegiance to anyone.
Bishop also noted that for him, in training his band members, many of whom are teenagers and those who have gone into the world and made a name for themselves, "education is the key and it is critical to possess if you are going to stand out in this world."