BRIGHT smiles were seen on the faces of parents and guardians on Monday when the Ministry of Education began the distribution of the $40,000 'Because We Care' cash grant in Region Two.
Education Minister, Priya Manickchand, had announced that over 214,000 learners attending public and private schools across the country, will benefit from the annual cash grant which includes the school uniform and supplies voucher.
At Cotton Field Nursery School, Regional Education Officer, Shondelle Hercules, said that just over $501 million will be disbursed to the parents and guardians of 12,545 leaners.
She called on the parents to ensure that they invest the money in the welfare of their children. She also reminded them that the 'Because We Care' grant is an initiative spearheaded by President, Dr. Irfaan Ali, and Minister of Education, Priya Manickchand.
The distribution will conclude on June 7.
Shemain Griffith, a mother of two and resident of Cotton Field, was very excited to receive the cash grant. She commended the government for the initiative and said that the money always comes in useful.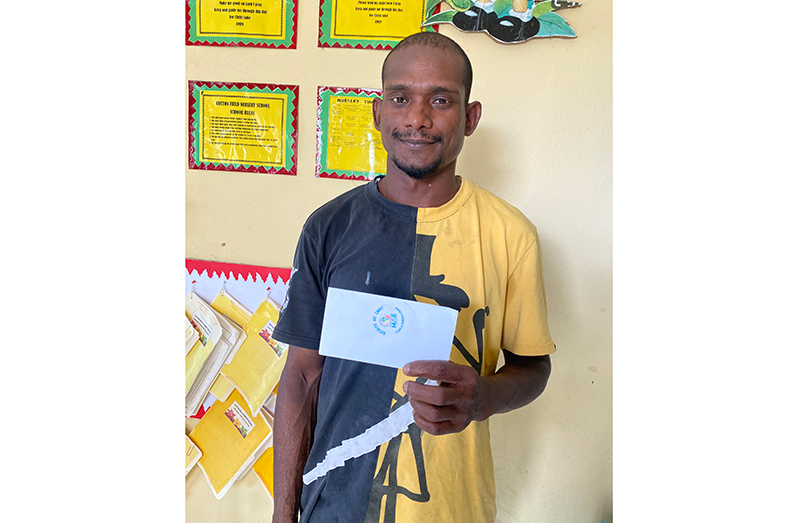 Another parent Cindy Singh, who is a mother of four said that she always looks forward to receiving the money since it goes a long way in helping to take care of her children.
"This is a good help, I will say a good push, and I use the money to improve my child's life. I would like to thank the government for this good gesture," Singh said.
Kenny Mohammed in his comments to this publication also commended the government for the initiative.
He said that the increase in the grant came at an opportune time as parents have to purchase textbooks and reading materials for their children.
Ravindra Das, a father of one, said that he was happy to receive the money.
He said that although he is working, the grant comes in handy for him and his family. The father said that all the money will be spent on his child's education.
Jenese Dowden, a mother of two, said that she ensured she came early to uplift her money. She said that she was happy having learnt that the grant was increased this year.
"Every day the children have to get something new and with the money it will assist them. I will purchase a tablet for my child and a new mattress," Dowden said.
The government in its manifesto, had promised that by 2025, each child will receive $50,000.
The 'Because We Care' initiative started in 2014 under the People's Progressive Party/Civic (PPP/C) Government and saw parents receiving cash grants of $10,000 per child in the public school system.
However, when the A Partnership for National Unity + Alliance For Change (APNU+AFC) assumed office in 2015, the party discontinued the grant. When the PPP/C returned to government in 2020, they upheld their promise to restore the grant and increase it.