By Sean Devers in Trinidad
Guyana Harpy Eagles were large and in charge in T&T Red Force's own backyard at the end of the penultimate day of their third round West Indies Championship fixture at the Brian Lara Cricket Academy yesterday.
A supberb maiden unbeaten 101 from 26-year-old Kemol Savory from 222 balls, 270 minutes with five fours and six and a compact 74 with 10 fours and a six from 158 balls by 35-year-old Leon Johnson have virtually batted the hosts out of the game.
The pair of Savory in only his third game and Johnson, a veteran of 125 first-class games including nine Tests, joined forces on the second afternoon at 80-3 and shared in a wonderful 141-run stand before Johnson was dismissed in the second session.
This was his second fifty in his final game in Trinidad and he tried very hard to finish here with a seventh First-Class ton and first in three years at this level but would be very pleased with his team's position.
Guyana, resuming yesterday on 96-3, declared at 14:02 hrs at 247-6 when Savory, who spent almost an hour in the 90s, reached his hundred.
Daren Bravo and Brian Charles had two wickets each for the Red Force who, set an improble 412 to win, were 106-3 needing 306 more with seven wickets in hand for a come-from- behind win.
Jud Goolie (14*) will hope to give Bravo, whose unbeaten 63 came from 105 and has included seven fours, support today.
Guyana resumed the day with Savory on 34 and Johnson on nine, with a lead of 260 and the pair batted in ultra-cautious mode as the partnership slowly progressed.
Savory, who plays for Police in the Georgetown, was dropped at short leg by Keggan Simmons off Charles on 43 before pushing the off-spinner to cover for a sharp single to reach his maiden fifty from 108 balls with three boundaries.
The Essequibian celebrated the landmark with a magnificent straight drive for four off Uthman Muhammad while his captain steered Muhammad to the vacant third-man boundary to post the 300 lead before cutting Charles for four.
Johnson spanked Tion Webster for a boundary as the 150 came up on another very hot day as raging bush fires to the east of the ground produced smoke that drifted over the sward.
Savory was dropped on 67 at long-leg from a miscued hook off Webster while Johnson reached his fifty from 100 balls in a knock decorated with seven fours and a six.
By Lunch Guyana were on 187-3 with the lead 351 and the partnership on 107. Savory was on 76 and Johnson on 54.
After the interval, Johnson hit Jason Mohammed for four before squeezing Justin Manick between the slip cordon for another boundary as he stepped on the gas.
With Johnson, who made his first-class debut 20 years ago, on 74 and in touching distance of an elusive ton, Charles got one to bounce and Johnson was taken at forward short leg with the score on 221-4.
This was the 47th time Johnson had scored 50 or more runs at this level but he has only converted six of those scores into centuries.
Kevin Sinclair, with a half-century in the first innings, was taken at mid-off for one as Charles struck again to leave Guyana on 227-5 before Anthony Bramble (2) missed an injudicious slog-sweep and was LBW to Bravo at 230-6.
Savory, who, all of a sudden looked uncomfortable against Charles, eventually reached three-figures from 220 balls, 270 minutes with five fours and a six.
Kemo Paul (7) was the other not out batter when Johnson declared.
Needing to bat over five sessions to save the match, the Red Force had a horrendous start when Jeremy Solozano was caught down the leg-side by Bramble as Nial Smith struck in the second over before Keggan Simmons (8) edged Paul to Johnson at first slip at 31-2.
Bravo, with twin tons against the Leewards in his last match, was joined by Mohammed, who made 50 in the first innings, and a handful of fans were depending on the two batters in the team to prolong the game as long as possible.
However, Mohammed (13) played around and was LBW as Paul struck just before the close to end a promising 39-run stand dominated by Bravo who reached his 50 from 63 balls with seven fours.
With Goolie looking very comfortable against spin, along with Bravo, who is arguably the best batter in the tournament, today could be an interesting day as Guyana hunt their second win this season.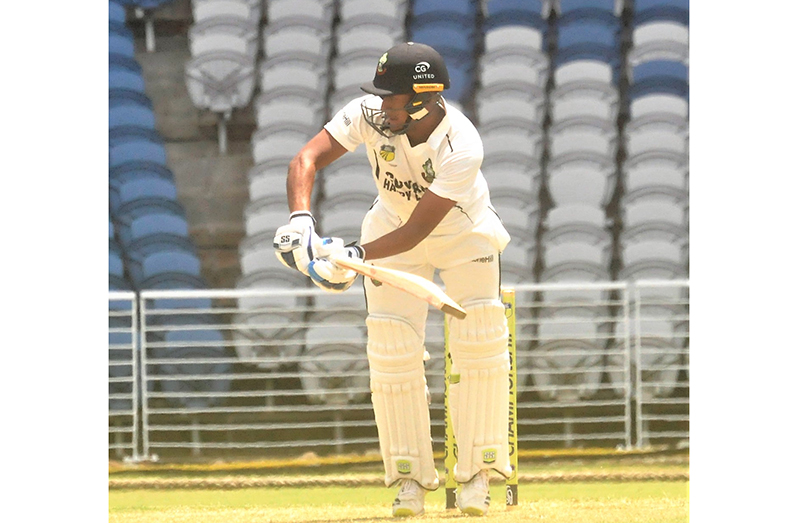 Scoreboard
Guy 1st inns 324
T&T 1st 160
Guy 2nd inns O/N 96-3
Kemol Savory not out 101
Leon Johnson c Simmons b Charles 74
Kevin Sinclair c Solozano b Charles 1
Anthony Bramble lbw b Bravo 2
Keemo Paul not out 7
Extras 11
Total 247-6 declared
Fow: 5, 31, 80, 221, 227, 230
Bowling:
Webster 11-2-29-0, Muhammad 14-3-38-1,
Bravo 9-1-23-2, Manick 9-0-33-0, Charles 23-3-60-2,
Khan 10-0-28-1, Goolie 4-0-16-0, Mohammed 3-1-11-0
T&T Red force 2nd inns
Jeremy Solozano c wkp Bramble b Smith 0
Keggan Simmons c Johnson b Paul 8
Daren Bravo not out 64
Jason Mohammed lbw Paul 13
Jud Goolie not out 14
Extras 8
Total 106-3
F0W:2, 31, 70,
Bowling
Beaton 6-2-20-0, Smith 8-2-21-1, Paul 10-0-38-2,
Sinclair 8-1-12-0, Permaul 6-0-14-0