HAVING received a start from a non-governmental organisation (NGO) nine years ago, Samantha Benjamin is a successful small-business owner with her own plant nursery in her village of Now or Never, Mahaicony.
The 40-year-old told the Pepperpot Magazine that she is very thankful for the start, because she was able to realise her full potential of running her own small business and it allows her to work from home which is very convenient.
Food For The Poor Guyana visited the community and established the Now or Never Farmer's Group Nursery Project at the home of Samantha Benjamin.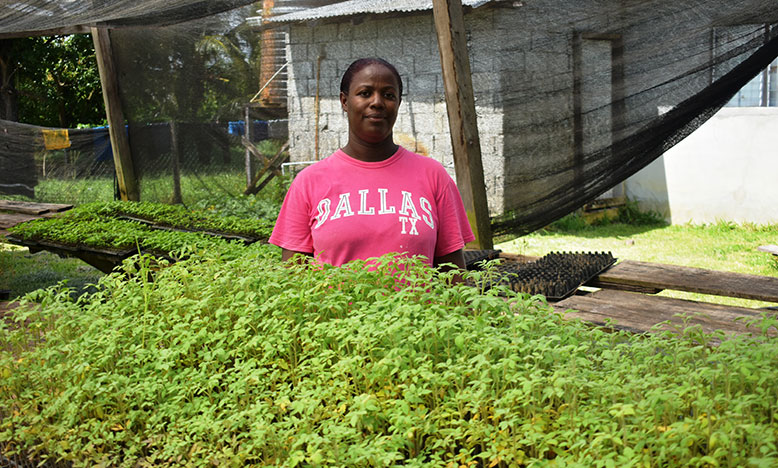 The mother of three related that Food for the Poor funded the project in its initial stage, and after that, she had to manage it as to make a profit to keep the business operational.
Presently, she has plants in the form of lettuce, celery, sweet pepper, pak choi and tomatoes. These are supplied to farmers in the village, who pay $10 per plant, which is reasonable.
Benjamin would purchase seeds and set them for the plants to grow, after which it is sold to farmers per plant and the demand is substantial.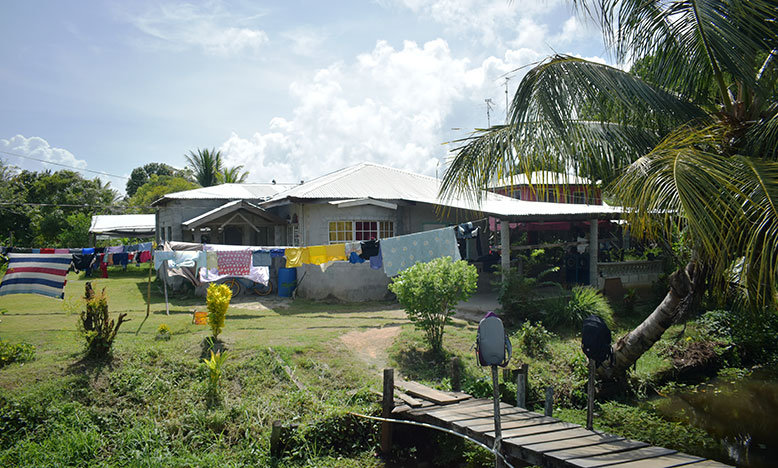 She was in high praise for Food For The Poor, since they provided the materials for the plant nursery to be established, and it is still in operation to date.
"We usually buy seeds by the bags to set for the plants and sometimes customers bring their own seeds and when they do, we give them a better price of $5 per plant," she said.
Benjamin stated that the cost for a bag of tomato seeds is $20,000, and it is not possible to benefit from a profit at times.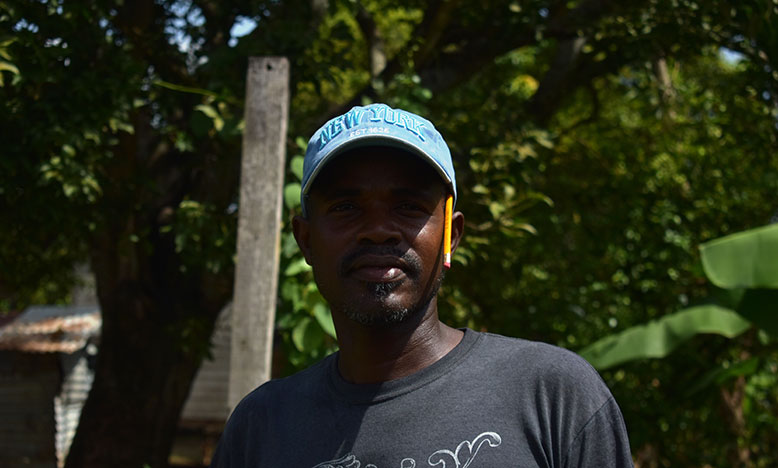 She has the assistance of her spouse, Michael Benjamin, and her female cousins who would lend a helping hand with the seedlings transferral with is a tedious process and she would give them a stipend.
Benjamin added that in addition to buying seeds, they would also have to purchase pro mix to add to the soil to promote the growth of the seeds and it is $10,000 per bag, which is costly.
She noted that they are still in business because her husband is also a construction worker and he would have to go out of the village for work, and his income would assist in offsetting the expenses of the plant nursery.
Meanwhile, Michael Benjamin told the Pepperpot Magazine that four years ago, officials from the Hydrometeorological Service based in the city visited and following consultations, they erected a rain range in their yard and he is tasked with the daily reading of rainfall.
Daniel Richards Chichester, the plant nursery owner
When Daniel Richards Chichester fell from a verandah on October 6, 2017, and lost the use of both legs he became bedridden and thought his life was over.
However, with encouragement from his family and fellow villagers, he acquired a motor scooter, got out of bed, and began to regain his life slowly.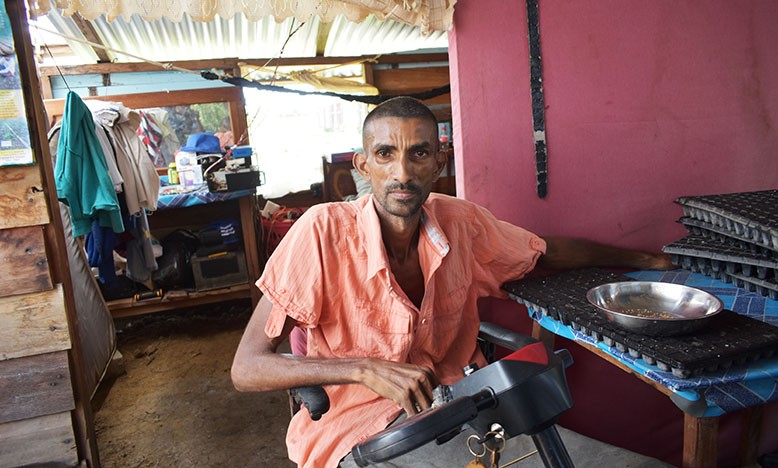 Chichester told the Pepperpot Magazine that today he owns one of two plant nurseries in the village and he works at his own pace after completing daily chores, right from the motorised scooter.
The 38-year-old added that getting out of bed was the hardest thing for him and he was so fed up of just lying there thinking all kinds of things and, to make things worse, his family left him.
The father of three stated that after his spouse moved on, he was devastated, but he is thankful the people of the village did not abandon him as well.
Chichester told the Pepperpot Magazine that his cousin who lives overseas sent him the motorised scooter and he became mobile and began to do things for himself and it felt good.
Eventually, he started his plant nursery and made his living accommodation comfortable and did not look back. Today he supplies farmers in his village with plants for their farms.
Chichester related that he hardly goes out because of his condition, so he would depend on his mother to buy the seeds for him to set for plants.
When the team visited, he was putting seeds in the trays and has in stock tomatoes, peppers, and boulanger.
"I already had the experience because since age 16 years old, I have been farming, so it was just for me to put things into action to start my plant nursery and it happened. I am very thankful for the people that[sic] stood beside me in my time of need and the people of Now or Never contributed to my success too," he said.