WORKING from the comfort of her home is ideal for Tessa Daniels, a mother of four, who is a talented craft maker of Swan Village, Soesdyke/Linden Highway.
The 32-year-old is gifted at what she does for a living, and, with the upcoming Amerindian Heritage Month celebrations in the village, she is tasked with making headdresses, costumes, jewels and other craft pieces.
Daniels is a self-starter and would go about her daily routines without any pressure of not having too much to do.
This resident of Swan Village makes different types of crafts from the ite' palm trees and uses the dyed "tibisri" straw to make fruit bowls, jewel boxes and bags.
She would purchase food colouring in the variety of colours offered on the market and manually dye the tibisri straw to make her craft, which is a delight to the eyes, very colourful and well made.
Daniels told the Pepperpot that she would complete her household chores and cooking before undertaking any craft making which requires her full attention and patience since it is hand-made.
"I love craft making because it makes me feel alive and good from the inside out, and since age nine years old, I started on my own to make things because I used to sit and watch my mom do it for hours at a time," she said.
Daniels reported that she has some customers in the city and she would work on a "demand and supply" basis to meet the needs of orders requested.
On September 18 this year, Swan Village will be celebrating their heritage at the Community Centre Ground, and she is tasked with making the costumes, the matching jewels and the headdress for the event, which is much anticipated.
She stated that she is also a seamstress and would take orders for uniforms and outfits on a part-time basis since it is not a steady income generator for her.
Daniels describes life as fair in Swan Village, but it entails hard work and dedication and the love for what you do for a living to enjoy a reasonable standard of life.
She has two daughters and two sons, all still at school and they would often assist her in some housework.
The elders
Also in the village is the home of Eugene Daniels and Adeline King, an elderly couple, who is taking life one day at a time despite challenges.
Daniels related that he is originally from Mabaruma, Region One and relocated to Swan to have a better life.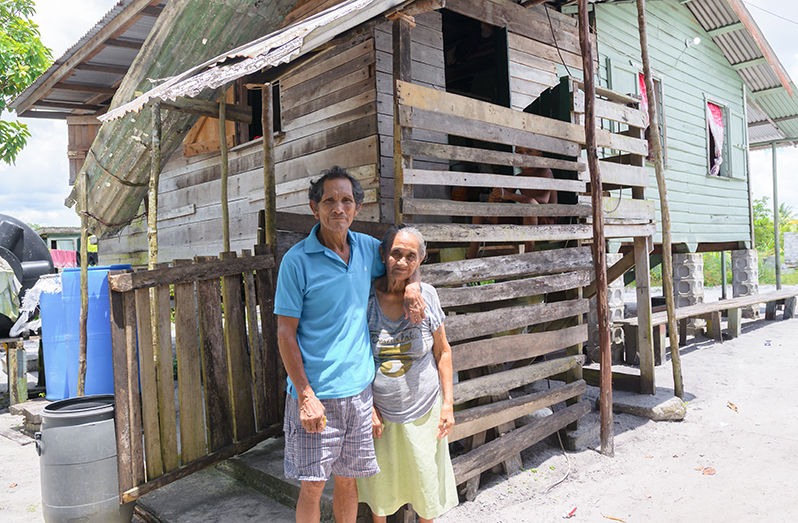 He is the father of three, and these days he is a stay-at-home grandfather who does simple things around the home.
His wife does the cooking and mostly tends to the grandchildren whenever they come over since they reside in a house in the same yard.
King is from Berbice River, and she has children, some of whom reside in Swan.
Meanwhile, 71-year-old Emalda Bennett is staying with this family due to her ill health. Her son brought her to Swan from Berbice River last year August.
She suffered a stroke that left her weak, and she depends on relatives to assist her.
On some days, she would go for a walk in the village.
Eunice Daniels
At 68 years old Eunice Daniels is a mother of six and a grandmother of 15 who resides in Swan Village.
She left her home village of Wauna, Region One, three years ago to be closer to her family, all of whom live in Swan.
Daniels has a neat cottage that sits comfortably on a plot of land which has flowers and other plants.
The place is very clean, and she had just finished washing some clothes and was about to prepare some food.
"With the grandchildren here, I always have to have something in the pot for them when they come over and I don't mind. That's why I came here to be with my children and grandchildren," she said.
Collin Daniels
Collin Daniels lives next door to his mother, Eunice Daniels and he is a father of five. He is a labourer and farmer, trying to become financially stable to upkeep his family.
He told the Pepperpot Magazine that he works at the scrap metal business in the village and when he gets the time, he would cultivate crops to sell.
Daniels is also a lover of plants and flowers; his yard is full of them in all sizes and colours.
He would sometimes sell plants when he gets a new one.
The 41-year-old reported that he doesn't have a steady job, so he decided to farm with the little land space he has, but there is a water problem in the village.
Water doesn't flow through the taps often, and he would have to go on his bicycle to fill buckets of water to wet his crops.
He has been a resident in Swan for 17 years and he likes the quiet life there surrounded by his siblings and family.
"I am a home man, a family kind of person who doesn't go out at all because I prefer to do some planting and work in and around the house," he said.
Daniels has one of the cleanest yards and enjoys spending time with the family.
He is hoping to get more land to expand his farming so he can become self-sufficient.