–Subraj Foundation serves over 700 residents
"YOU need to come back," is a statement that took on special meaning when the George Subraj Foundation out of New York visited the Kumaka/Santa Rose communities in Moruca, Region One recently with its free eye clinic.
Residents came out from all corners of the sub-region in Region One (Barima/Waini) to access the services which they'd otherwise have to spend thousands of dollars for. For a simple eye test, for example, residents would have to spend money beyond their means on just transportation alone.
Having the service come to their own community, therefore, was a welcomed relief, and the number of persons who turned up was so great that many felt the work couldn't be completed in just one day.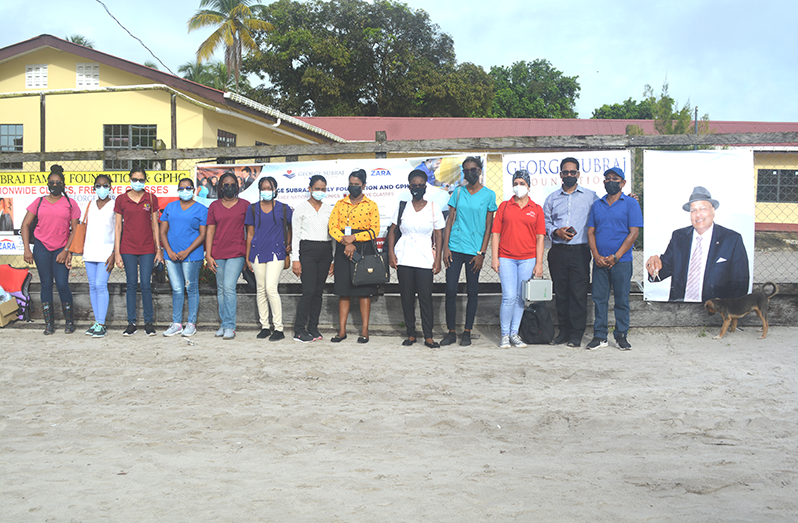 "There are typically 50-60 persons waiting when you turn up. When we started the registration, the number steadily grew. I told them to leave it at 300, but when I went back at 9:06 am to inquire, they said there were 418 persons recorded," Project Coordinator Richard B. Mahase told Pepperpot Magazine about his experience in Kumaka.
At this point, the team had to stop handing out numbers, but it would by no means back down from trying to assist everyone who waited around for help. "We thought we would only deal with 100-150. The discipline of each person, and their patience throughout the process was exemplary," Mahase noted.
Waramuri, where over 300 residents were served, was reportedly promised this kind of outreach and services many times before. "So they were often neglected. We realised how important the services were," Mahase noted, adding, "It went well for the community. Even if they did not get glasses, getting an eye test tells them what the status of their vision is at the moment. Santa Rosa, I can genuinely say we want to come back to."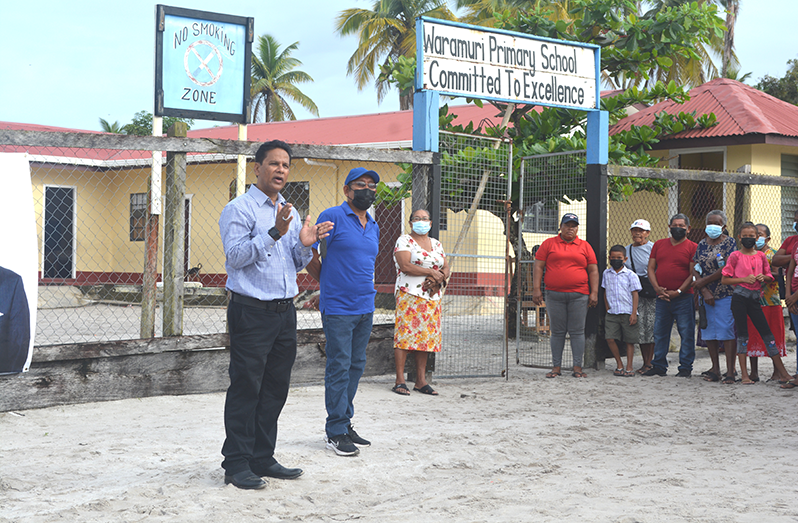 Mahase, even before his team, went to the Santa Rosa Primary School to find approximately 50 persons waiting to be served. As the number continued to multiply, it was found that the number of senior citizens who needed help was a lot, hence it took a longer time to process each person.
But Mahase was high in praise for the medical team led by Dr. Ketty Monteagodo. "Our team was brilliant," he said. "It was a unique experience working with the team led by Dr. Ketty Monteagodo; she was brilliant in every aspect of her practice for the past three days of the clinics. She saw hundreds of patients; I thought she was exceptionally brilliant, and a fantastic leader. The team from GPHC and Suddie Hospital participated well, and they were motivated to work and help when they saw the people."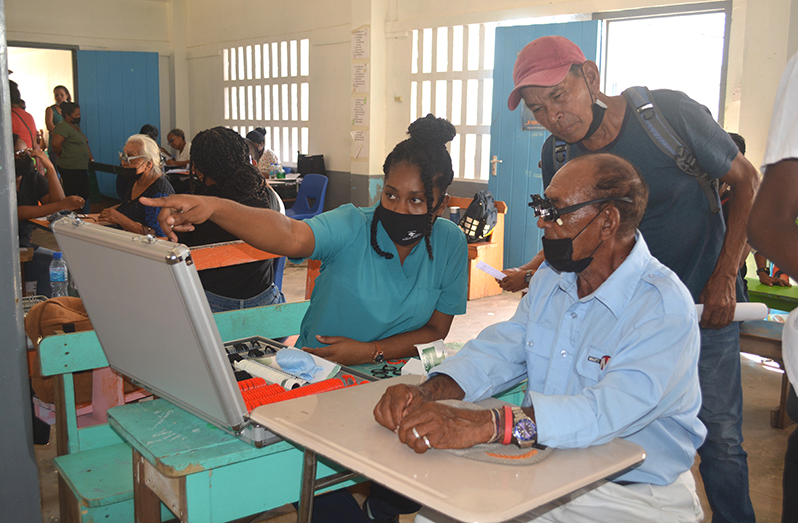 Head of the Ophthalmology Department Dr. Shailendra Sugrim was instrumental in putting together a team to assist the Foundation with its outreach to Region One. Suddie Hospital, Waramuri Health Centre, and the Kumaka District Hospital participated in the exercise, with the cooperation of the Regional Health Officers of Regions One and Two (Pomeroon-Supenaam).
The Anna Regina Division Two Police Headquarters participated, and cooperated fully, along with the Guyana Defence Force (GDF) on the Essequibo Coast. Because of the difficulties of reaching certain riverine communities, the GDF/GPF, especially the Division of Region Two, reportedly cooperated fully.
Five clinics were held this time around, namely: Canal Number Two, Anna Regina, Waramuri, Kumaka and Lichfield, West Coast Berbice. "We purchased several million dollars' worth of prescription glasses, which we brought with us for the first time, and we were able to dispense a number of those glasses to really happy residents. They can see all in one now; they have the distance and the reading glasses," Mahase shared.
MASSIVE
Retired head teacher at Waramuri Primary School Festus Williams felt that the outreach to Waramuri made history. "What is happening here today by this Foundation was never done," he said. "Every time there is something like this, it always goes to Kumaka/Santa Rosa area, because they say it's Moruca. So we would have to traverse from here to Kumaka. For the very first time, I think this is a plus; nothing as massive as this ever happened here."
Headteacher of Waramuri Primary Colin De LaCruz felt it was a wonderful initiative. "I must applaud the effort; I don't know much about the Subraj Foundation, but I am one resident who wants to say thank you to them, and hope they will be back soon," he said.
LaCruz said that no activity of this magnitude has ever happened in Waramur Village before. "Most of the time, activities happen at Kumaka. Someone heard our voice that the smaller communities should be served too," he expressed.
Former primary school teacher Rowena Williams said the exercise was really one that the community was looking out for. "Looking at the crowd, it shows they made full use of the opportunity," she said, adding: "I know it is benefiting us, because we do not get these kinds of services. We would have to go out to Essequibo or somewhere, and that's a lot of money, which is so difficult for us. The transportation to go to Kumaka is very expensive, especially since the fuel prices went up."
Another resident, Evadney Henry was thankful for the opportunity, and for the WHO team. "Most of the time we do not have this kind of exercise in our community. On behalf of the Waramuri community, we want to say thanks. It's a really, really great exercise, and it helps us a great lot. Most of us need this kind of assistance."
Seventy-two-year-old Patrick Mendonca, a retired teacher of Santa Rosa, said many people in the community have vision problems and are going blind. "It could be the food we're eating. In the past, people used a lot of stuff that they planted, but now you have a lot of chemicals added to crops and chicken. So, to me, that is affecting not only the sight but other parts of the body as well.
Celina Marville of Mora Village, offered that the visit was welcomed. "For you to go out and get glasses, it's very expensive. Sometimes they give you a date, and when you go back, you get another date; it's more money you're spending. Most of the people here don't have money. You have to find money for the glasses plus the transportation. It's very expensive, especially for us old people. The pension we get is mostly for food. I got a good service today; I got a reading glasses and I am seeing good with it," she shared.