"ABUSE doesn't happen 24/7. There are beautiful days or months with love and affection and then there's the abuse, and when that happens, we know that it's going to end; we look forward to the next phase, and so, oftentimes, our brain tends to block out the bad parts." – Wemyss de Florimonte, UNFPA Guyana Gender-based Violence (GBV) Coordinator, and survivor of GBV
'Normal'
From the outside, the de Florimontes looked like an average, well-to-do family. Mr. de Florimonte was a well-respected senior journalist, his wife was a nurse, and they had nine children together. But Mr. de Florimonte had a habit of consuming alcohol. When he imbibed, it had an immediate effect on their Subryanville, Georgetown home. This would lead to conflict in the home.
As the youngest child, Wemyss recalls reciting the mantra "The blood of Jesus." It was taught to her by one of her sisters, who used her faith to comfort her siblings.
"To this day, I can't hear that thing without getting upset," says Wemyss. "That cycle continued throughout my childhood."
Wemyss never doubted that her parents loved their children. The now 49-year-old Gender-Based Violence (GBV) Coordinator working with the United Nations Population Fund (UNFPA) in Guyana believes that her parents did their best with the knowledge that they had.
"My father's ideology was deeply rooted in patriarchy," she says. "He also served in the Guyana National Service. When he came home, the whole house had to be clean. Food had to be on the table. If not, everybody had to be uncomfortable."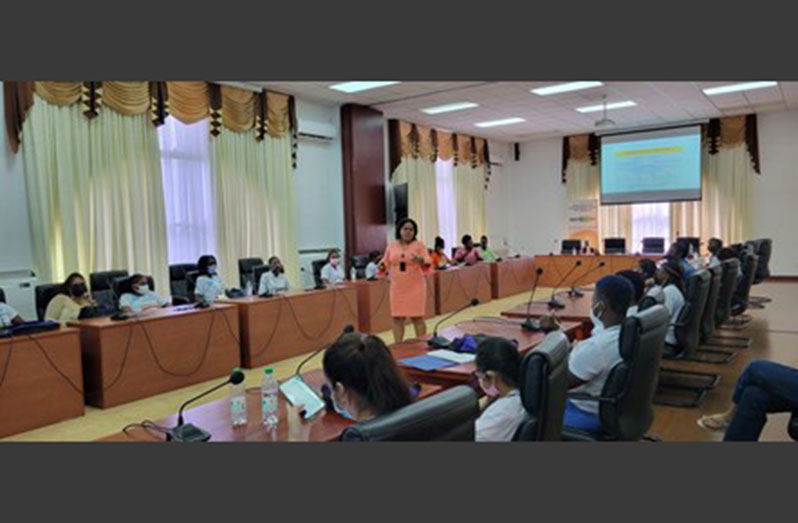 In a house of 11 people, Wemyss often felt invisible, so she sought attention elsewhere. At the age of 15, she became pregnant by her 17-year-old neighbour. "I hid that pregnancy… but I did it for a reason, because I knew my family members were going to make sure I had an abortion," she says. Though she was young, Wemyss knew she wanted to keep the baby.
When the relationship with her daughter's father did not work out, Wemyss, now a teenage mother, entered another relationship. This relationship resulted in abuse. After several attempts to leave, Wemyss finally decided she'd had enough after one particularly violent episode. She says that her father was instrumental in giving her the courage to leave by letting her know that she was always welcome to return home if she was unhappy.
Finding purpose through social work
After dropping out of school to take care of her baby and working for minimum wage most of her early adult life, Wemyss decided to complete her high school education at the age of 30. She graduated from the Critchlow Labour College with five Grade Ones at the Caribbean Examination Council (CXC). She first set her sights on becoming a nurse like her mother, but her older sister, who is a social worker, encouraged her to pursue a social work degree. Wemyss decided on a life in social work as she felt that her experience with her studies had helped her to heal from her own trauma.
"In Guyana, we do not have an agency that offers holistic support. What we do is treat symptoms, we do not treat underlying issues… I told myself I am going to study social work, and it will heal me. I want to understand how to be a better parent, how to get over this [trauma] and the way that I respond to situations. As a parent, I sometimes used to lash out at my children," she says, "I recognised I was traumatising my children because of my trauma."
What started as a journey toward self-healing turned into a passion for helping others. Wemyss fell in love with social work and all it entailed. As one of the older people in the class, Wemyss became a shoulder to lean on for other women. "So many women have gone through these things, and they're still going through it," she says. "I think because of my [outspoken] personality, they found it easier to talk to me, so I started being the unofficial class counsellor," she explains.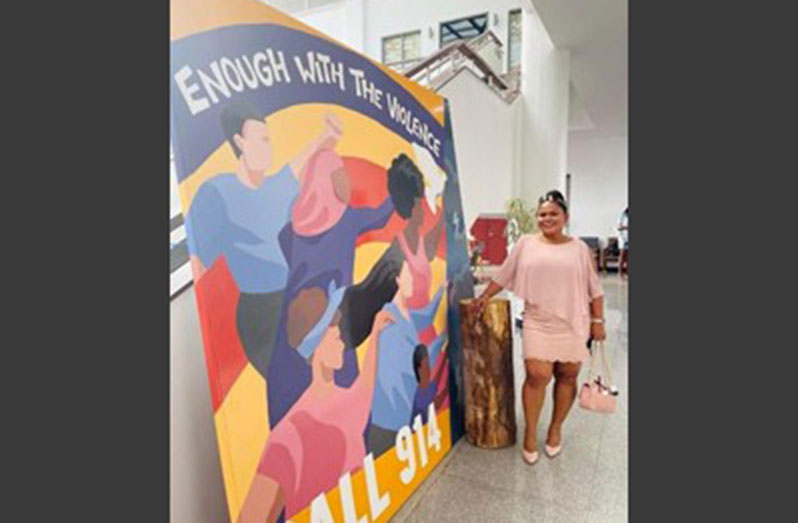 After graduating with a distinction in her Social Work Degree, Wemyss worked as the Head of the Women of Worth programme with the Ministry of Human Services and Social Security. The programme was a collaboration between the ministry and the Guyana Bank for Trade and Industry Limited (GBTI) to provide small business financing for single-parent women at low-interest rates. She later became the Monitoring and Evaluation and Community Development Officer at the Ministry of Tobago Development, working out of the Trinidad and Tobago Office of the Prime Minister in 2018.
The Spotlight Initiative
A Master's Degree in Social Work at the University of Guyana brought Wemyss back to her home soil in 2018. Then, the COVID-19 pandemic kept her there. It was then that Wemyss heard about the Spotlight Initiative, and now works closely with the UNFPA to execute projects under the programme. "The Spotlight Initiative is one of the programmes that I support 100 per cent," she says. "It addresses violence against women and girls (VAWG) in a holistic way. GBV is systemic. It's rooted in all of our practices, our norms, our institutions, so addressing gender-based violence requires a multi-sectoral, multilayered, as well as a community-centred approach. We can make a difference with [the] Spotlight Initiative because it addresses gender-based violence or violence against women and girls from all these different angles."
The six-pillar approach of the Spotlight Initiative addresses Laws and Policies, Institutions, Prevention, Essential Services, Quality Data and Civil Society/Women's Movement.
Wemyss says that Spotlight Initiative programmes have been breaking new ground in Guyana, from the Gender-Based Violence App it helped develop to the Child Advocacy Centres that provide victims of child sexual abuse access to child-safe and child-friendly spaces.
Despite some progress, she says that more must be done to create cultural change so that women can come forward and share their stories or have the courage to leave their situations.
"I am a fighter, always," she says. "And I was always taught to speak out and not be afraid. But [society] denigrates women so badly. [It's] as if we don't understand that this is something that all of us might have grappled with – whether personally or through interactions with a survivor. [We need] to talk to survivors. Let us support them, let us work with them, let us remind them that many of us went through this, but by the grace of God, came through. Support is everything."