ON December 3, 2021, the third Ministers' Meeting of the China-CELAC Forum (CCF) was successfully held via video link. After the meeting, Chinese Vice Foreign Minister, Ma Zhaoxu, gave an interview to domestic media about the meeting and its outcomes.
Ma noted that the meeting was a major diplomatic event jointly held by China and Latin American and Caribbean (LAC) countries. President Xi Jinping delivered a video address at the meeting, charting the course for the high-quality development of China-LAC relations in the new era. Participants had an in-depth discussion around "Together Overcoming Current Difficulties and Creating Opportunities to Continue Building a China-LAC Community".
They explored new prospects for developing the CCF and China-LAC relations against the backdrop of the momentous changes and a pandemic that are unseen in a century. They reached extensive common understandings on deepening China-LAC strategic mutual trust and advancing practical cooperation in priority areas in the next three years. The meeting, as a grand event for China and LAC countries to pursue common development and a shared future, has great relevance.
Ma pointed out that, in July 2014, President Xi Jinping and leaders of LAC countries jointly announced the establishment of the CCF. In January 2015, President Xi Jinping delivered an important speech at the opening ceremony of the first Ministerial Meeting of the CCF in Beijing, which laid the foundation for the smooth start and long-term development of the Forum.
In January 2018, President Xi Jinping sent a congratulatory letter to the second Ministerial Meeting of the CCF held in Santiago, the capital city of Chile, enabling China and LAC countries to reach the political consensus on jointly advancing the Belt and Road Initiative. In his video address, President Xi Jinping spoke highly about the CCF. He pointed out that our two sides have acted on the Forum's founding purpose of strengthening unity and coordination and advancing South-South cooperation, turned it into a major platform for pursuing mutual benefit, and taken China-LAC relations into a new era featuring equality, mutual benefit, innovation, openness, and benefits for the people.
Ma said that, in September this year, President Xi Jinping put forth the Global Development Initiative at the United Nations, calling on the international community to strengthen cooperation on eight key areas, namely, poverty alleviation, food security, COVID-19 response and vaccines, development financing, climate change and green development, industrialization, digital economy and connectivity, and speed up the implementation of the 2030 Agenda for Sustainable Development.
President Xi Jinping further pointed out in his video address that the world today had entered a new period of volatility and transformation, and both China and LAC countries face the new task of our times—to promote post-COVID recovery and deliver happiness and well-being to our peoples. LAC countries were welcome to take an active part in the Initiative and work together with China to navigate this difficult time, create more opportunities, and build a global community of development with a shared future.
LAC countries welcomed the Global Development Initiative, and they shared the view that it was another important global public good provided by China after the Belt and Road Initiative, which will bring new opportunities to developing countries, including LAC countries in their efforts to deliver the 2030 Agenda for Sustainable Development.
Ma said that cooperation and solidarity with fellow developing countries was the unshakable foundation of China's external relations. As President Xi Jinping underscored, history teaches us that peaceful development, equity and justice, and win-win cooperation represent the right way forward. China and LAC countries are all developing countries. We are comprehensive cooperative partners of equality, mutual benefit and common development, and our shared aspiration for independence, development and rejuvenation has brought us closer together.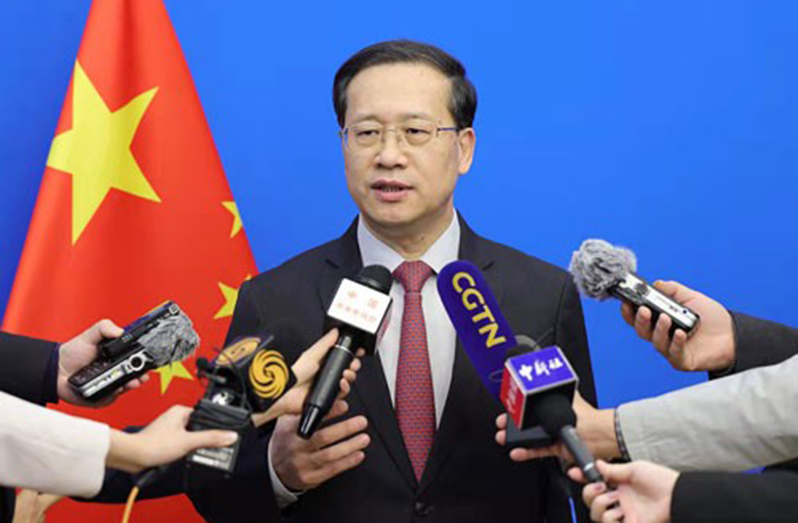 Since the start of COVID-19, China has actively pursued cooperation on COVID response with LAC countries, providing over 300 million doses of vaccines and nearly 40 million items of response supplies. Such cooperation has helped people in LAC countries build a solid line of defence for life and health, facilitated resumption of local economic activities and boosted China-LAC cooperation on digital economy and in other emerging sectors. Last year, China-LAC trade exceeded 300 billion US dollars for the third year in a row, and is expected to reach 400 billion US dollars this year. During the meeting, CELAC representatives expressed thanks for China's valuable support in fighting COVID-19 and their wishes to deepen cooperation for economic and social recovery as early as possible.
China will continue to strengthen cooperation with LAC countries under the principles of pursuing the greater good and shared interests, and of sincerity, real results, amity and good faith, with a view to sharing development opportunities and promoting common development.
In his keynote speech at the meeting, State Councilor and Foreign Minister Wang Yi elaborated on President Xi Jinping's vision of promoting China-LAC cooperation toward the Global Development Initiative and the two sides working together to build a global community of development with a shared future. State Councilor Wang Yi made a five-point proposal for China and LAC countries to jointly create opportunities for independent, interconnected, green, open and inclusive development.
He also announced a series of cooperation measures: China will set up two special loans respectively for China-LAC development cooperation and digital economy cooperation to support practical cooperation in the eight areas identified in the Global Development Initiative, and support efforts by both sides to pursue the path of green, low-carbon and sustainable development; China pledges to encourage the UNFAO to support LAC countries in addressing the issue of food security with the China-FAO Trust Fund for South-South Cooperation; China also announced the establishment of a China-Caribbean development centre and the decision to provide new government scholarships and training places for LAC countries. These measures were warmly welcomed by regional countries.
Ma said that the meeting was action-oriented and fruitful. The meeting adopted two outcome documents, namely the Declaration of the Third Ministers' Meeting of the China-CELAC Forum and the China-CELAC Joint Action Plan for Cooperation in Key Areas (2022-2024), which clearly demonstrate the willingness of China and LAC countries to promote the building of a China-LAC community with a shared future and jointly meet global challenges, and draw up the roadmap for China-LAC cooperation in political and security areas, economy, infrastructure, social and people-to-people matters, sustainable development, and international and regional affairs in the next three years. China and LAC countries will continue to pool strengths and promote deeper and more concrete cooperation in relevant fields, so as to deliver more tangible benefits to our peoples. Development-first, openness and inclusiveness characterise China-LAC cooperation. It is focused on development, based on a people-centred approach and responsive to people's needs.
Ma highlighted that this year marks the centenary of the Communist Party of China (CPC). The Sixth Plenum of the 19th CPC Central Committee, held not long ago, comprehensively reviewed the major achievements and historical experience of the Party over the past century. We achieved the first centenary goal and are embarking on the new journey of realising the second centenary goal, making sustained progress toward attaining the Chinese dream of national rejuvenation. This year also marks the bicentenary of various Latin American countries. Last September, LAC countries held the 6th CELAC Summit, forging the consensus of meeting challenges together through solidarity and coordination, and striving to realise the LAC dream of strength through unity and independence. Looking ahead, China is prepared to work with LAC countries to draw up the blueprint for China-LAC relations and add impetus to China-LAC cooperation, with a view to making new contributions to the well-being of our peoples and to human progress.