THE majority of Guyanese athletes and their coaches departed these shores yesterday for a final stop in Cali, Colombia where they will compete in the inaugural Junior Pan-American Games which run from November 25 to December 5.
Guyana would be represented in the disciplines of Badminton, Boxing, Squash, Swimming, Table Tennis, Track and Field, and Weightlifting.
A contingent of 28, of which 22 are athletes will be at the Games for Guyana.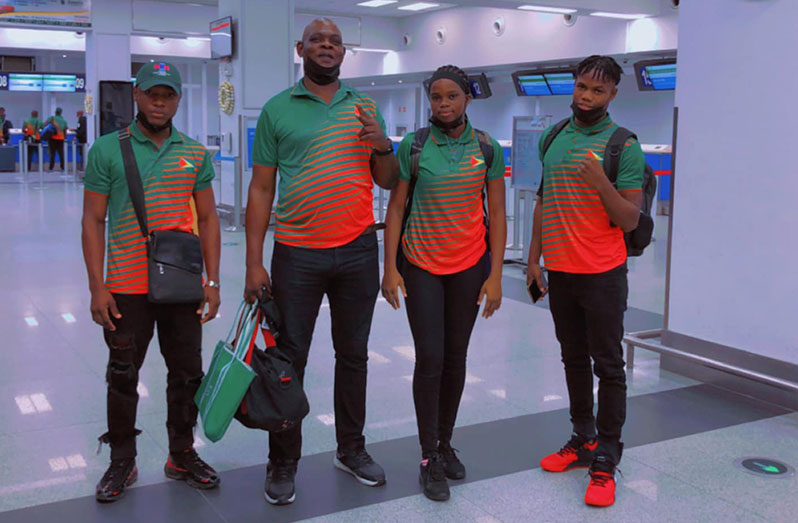 Team Guyana:
Badminton: Narayan Ramdhani (coach), Priyanna Ramdhani, Akili Haynes, Tyrese Jeffrey;
Boxing: Terrence Poole (coach), Alesha Jackman, Patrick Harvey, Travis Inverary;
Squash: Garfield Wiltshire, Shomari Wiltshire, Samuel Ince-Carvalhal, Michael Alphonso;
Table Tennis: Idi Lewis (coach), Miguel Wong, Jonathan Van Lange;
Weightlifting: Sean Cozier, Esther Nurse;
Athletics: Johnny Gravesande (coach), Revon Williams, Noelex Holder, Kelisa Smith, Chantoba Bright, Kenisha Phillips, and
Swimming: Paul Mahaica Sr (coach), Paul Mahaica Jr, Patrice Mahaica, Leon Seaton, Aleka Persaud.
K.A Juman-Yassin, president of the Guyana Olympic Association (GOA), charged the Guyanese athletes and officials to be good ambassadors and role models.
Guyana's delegation would be led by Chef-de-Mission Deirdre Edghill, and has physiotherapist Jana Edghill who will also act as the COVID-19 compliance officer.
The inaugural multi-sport event, geared to create a pathway to higher performance, will cater to athletes aged 17 to 22 competing in over 25 disciplines.
Approximately 3 500 of the world's next generation of athletes would converge on the South American nation.