ARIEL All Stars, Name Brand and Regal Legends ended the first day of the fifth edition of the Prime Minister T20 Softball Cup as the unbeaten teams.
Playing at the Police Sports Club ground, Eve Leary, in the Open Division, Ariel All Stars defeated strong oppositions in defending champions Speedboat and Regal All Stars while Name Brand achieved similar feats at the Demerara Cricket Club (DCC) ground, Queenstown to put themselves in excellent positions to qualify for today's semi-finals.
Defending Over-50 champions Regal Legends also ended the day with two effortless victories over New York Hustlers in their opening fixture, played at the MYO ground before trouncing Mike's Wellman at Liliendaal.
Batting first against Regal All Stars, Ariel All Stars reached a challenging 159 for six in their allotted 20 overs with Quintin Sampson (37) and David Williams (28) being the principal scorers. Kelvin Orford and Sewchand Budhu claimed two wickets each for 18 and 30 runs respectively.
Regal All Stars were restricted to 130 for eight in reply, going down by 29 runs. Richard Latif made 37 and Chien Gittens 32.
Sampson was among the runs again, blasting an undefeated 65 which included eight mighty sixes as Ariel made light work of Speedboat, reaching 117 for four in 12 overs, chasing Speedboat's 114 all out in 18.3 overs. D. Singh grabbed three for 15 and Keon Sinclair two for 14.
At DCC, Name Brand won from Success All Stars after successfully chasing down 167. Taking first strike, Success battled to 166 for five in their allotted 20 overs with A. Rooplall smashing a boundary-studded 82 with 11 sixes. N. Bailey took two for 24.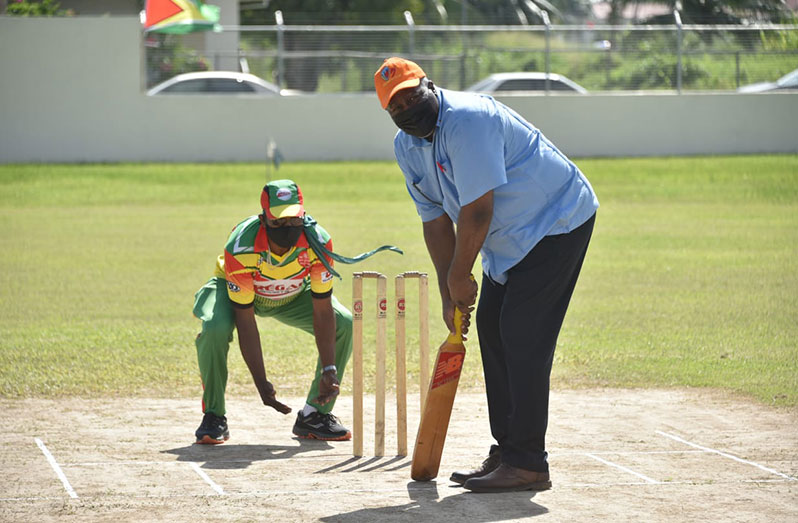 Name Brand reached the required target in 17 overs, losing four wickets in the process with K Dyal leading the way with 47.
In the other game, Name Brand got past Airport All Stars by seven wickets. Set 137 for victory, after Airport were dismissed for 136 in 15 overs, Name Brand canter to 140 for three in 11.1 overs. J. Diaram spanked five fours and a six in an undefeated 42 and got fine support from K. Gangaram 38 (two fours and three sixes and K. Dyal 34 (two fours and four sixes).
At MYO, Unis Yusuf missed hitting the first century of the tournament, falling tantalizingly for a masterful 96 as Regal Legends hit 223 for four in 20 overs against New York Hustlers.
Yusuf, who was the Most Valuable Player (MVP) at the New York Softball Cricket League (NYSCL) Independence Cup, continued his fine form with a dazzling display of power hitting, counting 13 fours and six sixes in his brilliant knock. He received fine support from Ramesh Narine who hit four fours and three sixes in 47 while Eric Thomas was 30 not out (two fours and two sixes) when the innings ended.
New York Hustlers could only muster 113 for seven in reply with Ken Sanichar the lone ranger with an excellent unbeaten 67 which contained three fours and five sixes. Ramesh Narine returned to claim three for 19 while Parsram Persaud, who caused the early damage, three for 19.
At Liliendaal, it was again the Narine and Yusuf show, with the former hitting a top-score of 86 (two fours and ten sixes) and Yusuf a quickfire 47 (four sixes) as Regal Legends hit 173 for seven in their allotted overs. L. Thom took three for 23 for Mikes Wellman who were shot out for 95 in 18.4 overs. Fazleen Mohamed took three for 30, Sunil Dhaniram two for one and Persaud two for 16.
Mike's Wellman had earlier took care for Floodlights Legends at the same venue. Batting first Floodlights were shot out for a paltry 87 with Khemraj Sumair (23) and Anand Persaud (20) being the principal scorers. Lester Thom, Linden Headley and Devanand Madhu took three wickets each.
Wellman cruised to 87 for two with Harold Hernanand hitting 31 and Sahadeo Budhu 24.
Futher deatails of other matches weren't available up to press time.
The tournament got underway following an opening ceremony, held at the MYO ground where Prime Minister Mark Phillips urged all the participating teams to adhere to the COVID-19 protocols in place.
While acknowledging that the tournament started prior to him being appointed Prime Minister, Mr Phillips gave the assurance that once he remains Prime Minister the tournament will continue.
The Prime Minister also delivered the ceremonial first ball to get proceedings underway.