FARMERS of Region Four were the latest beneficiaries of the government's flood relief cash grant when the distribution exercise continued on Saturday.
Ministers of Government spearheaded the distribution exercises across the region where farmers turned up to receive their flood-relief grants. The grants are intended to provide financial assistance to people who suffered losses due to the recent unprecedented floods.
According to a release, Agriculture Minister Zulfikar Mustapha visited Cane Grove and Lancaster, both villages located on the East Coast of Demerara, where he reiterated that everyone who suffered losses will receive the assistance from the government.
From the inception of the flood relief grant distribution countrywide, many residents complained that while they have suffered terrible losses, their names were not on the list to receive the cash grant, a wrong he vowed to ensure is corrected.
"We may not have captured everyone. There might be people who are here today who suffered losses, but their names are not on the list. Rest assured, as long as you suffered losses, you will receive flood relief from the government," Mustapha said.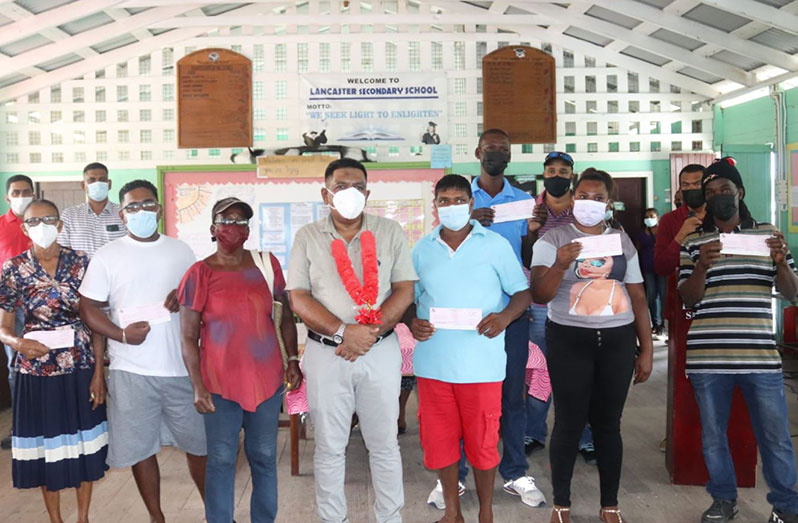 "Ahead of today's exercise, I also instructed our officers to post the lists at every distribution site so that people can see who are the persons that will receive today. We are doing this because we want to ensure the lists are transparent and acceptable," he added.
The release noted that farmers at both locations expressed gratitude to the government for the grant. One such farmer was Randy Jackson, of Lancaster, who said that the grant will allow him to purchase requisite materials to "make a start" and plant again.
Mayline Smith, of Helena Number Two, also praised the government for the relief being given to farmers, the release said. The flood relief will offer farmers "some help to bring back" their farms, she said.
The distribution of the cash grant was announced by President Dr. Irfaan Ali on August 1, 2021, who noted that approximately 52,000 households across 300 communities had been affected by the unprecedented level of floodwaters.
As part of the distribution exercise, farmers within the context of a homestead (farm, ranch, estate) receive $100,000 each; those with kitchen gardens will receive $50,000 each, and households, excluding homestead and kitchen gardens, will receive 50,000 each.
The rains also had a significant impact on the rice sub-sector, with approximately 50,000 acres and 2,000 farmers being directly affected. As a result, $80,000 in cash per acre was being given to those farmers; for rice sown and lost in the autumn crop, those farmers will receive $65,000 per acre; and for land that was completely prepared but was not sown, $45,000 in cash per acre would be given to those farmers.
Meanwhile, in excess of 2,000 livestock farmers had also been affected, and so, an aggregate of $600 million in direct transfers will be made available to subsistence farmers, small farmers, medium-scale farmers, and large-scale farmers.