IN supporting the tourism sector's recovery from the devastating impacts of the COVID-19 pandemic, the Tourism and Hospitality Association of Guyana (THAG) is leading a "Safe Travel Guyana" initiative which will assist in the safe reopening of several tourism businesses.
A press release from THAG explained that the initiative is aimed at assisting small and medium-sized tourism businesses across the country to safely restart their operations and is being executed in partnership with Conservation International Guyana (CI-Guyana) and the Guyana Tourism Authority (GTA).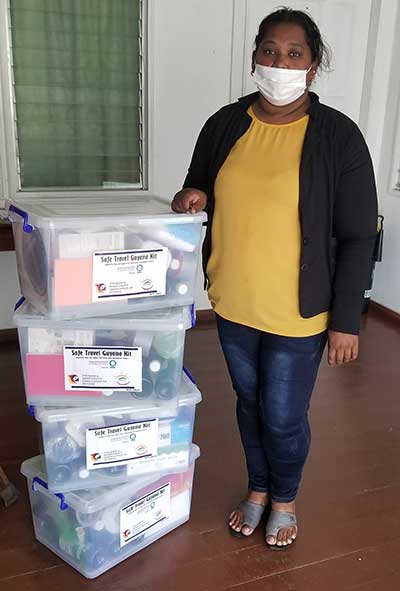 The initiative began in March 2021, and focuses on promoting health, safety, hygiene, and sanitisation at hotels, guesthouses, tour operators, restaurants, and other tourism businesses that have successfully completed the GTA-led training on Guyana's national COVID-guidelines and safety protocols.
The initiative provided safety starter kits to 125 small and medium operators in the Lower Essequibo, Pomeroon, Berbice, and Georgetown and its environs.
The kits included Personal Protective Equipment (PPE), sanitation supplies, calibrated thermometers and other materials needed for the operations to be COVID-compliant under the GTA and Ministry of Health regulations.
THAG's newly elected President, Harrinand Persaud, said "a 'safety first' restart is necessary, and as some operations have already been approved to restart, we would like to ensure that it is safe for everyone."
He pointed out that "THAG encourages all operations to utilise the safety starter kits, to implement the COVID-19 guidelines, and follow the Standard Operating Procedures they submitted to the GTA to ensure safety before, during and after guests visit their location."
With international travel slowly returning to pre-pandemic levels, Guyana's tourism industry faces unprecedented challenges in adapting to a COVID-present and post-COVID world.
THAG's Executive Director, Treina Butts, noted that it is important for the local industry to be supported to build resilience.
"Tourism's recovery in Guyana will depend heavily on our ability to mainstream effective health and safety measures across the sector. Only then will we be ready for the sustained return of visitors to our beautiful country," said Butts.
The Deputy Director of the GTA, Kamrul Baksh emphasised that "there is a great need for the tourism and hospitality establishments to continuously prioritise providing safe experiences to the public and we believe that those that have been granted their conditional approvals will continue to enforce the stipulated measures."
He said: "The GTA, as one of the lead monitoring and inspection agencies during this time is committed to providing the necessary level of support needed to ensure that these establishments remain COVID-19 compliant. Through this Safe Travel Guyana initiative, the GTA was able to train 20 participants from 15 businesses within Bartica and Essequibo. More importantly, these sessions were a prerequisite to receiving the safety starter kits provided by THAG. It is our hope that more businesses will be inspired and reach out to us for support."
Curtis Bernard, Executive Director at CI Guyana explained that nature-based tourism is one of the sectors with the potential to deliver national economic benefits from Guyana's vast intact natural wealth since it depends on healthy intact natural landscapes and the biodiversity they house.
Meanwhile, THAG in its release reiterated its commitment to continuing its collaboration with other tourism stakeholders to promote domestic tourism, and to make travel in and around Guyana more affordable, safer, and more appealing.
According to a recent IMF Report, the tourism economy accounted for 26 per cent of total Gross Domestic Product (GDP) in the Caribbean for 2019. The loss of jobs in the hotel and restaurant sector has been devastating for the region, with up to a 44.7 per cent drop in Latin America and the Caribbean.
In Guyana, restaurants, bars, and casinos have been allowed to reopen at limited capacity and with measures to ensure safety against COVID-19.