AS flooding continues in several regions in Guyana, the Director-General of the Civil Defence Commission (CDC), Lieutenant Colonel Kester Craig, has visited and assessed several affected communities in Region 10.
Additionally, a quantity of food hampers were distributed on Thursday to residents of dwelling, farming and mining villages along the Cuyuni River in Region Seven.
The hamper distribution was a joint venture between the CDC and Guyana Geology and Mines Commission (GGMC).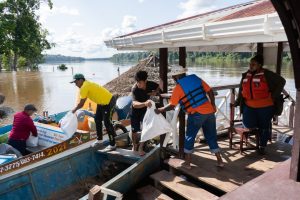 The communities receiving hampers included Two Point, Aurora, Devil's Hole, Cumang, Kurushie, Kurutuku and Quartz Stone, which have been hard hit. Residents have been forced to relocate to higher ground in many instances.
The Region 10 visit took place on August 13 and 14, and saw Craig engaging with the region's CDC supervisory and support staff responsible for shelter management, impact monitoring and hamper distribution.
According to a release from the CDC, Craig inquired about and was pleased with the results of the consistency and distribution of supplies, and the monitoring of areas from Kwakwani to Sand Hills.
Craig also engaged residents and representatives of the Regional Democratic Council (RDC) and received firsthand feedback of the devastating effects of the floods. He regarded the engagements as fruitful and insightful.
The Director-General during the visit also inspected shelters in the region, which are managed and supported by the commission, and offered several recommendations on the management operations. These include shelters at Aroaima, Hururu, Forestry and Kwakwani.
Craig also visited a number of communities that are still hard hit by floodwaters, such as Ladernsville, Hururu, Lamp Island and the Kwakwani Waterfront, where water levels are still fairly high in some residences and business establishments. Several sections of access roads are still inundated while structural damage of varying degrees throughout the communities were also observed.
According to the CDC, they continue to monitor all flood prone and impacted areas across Guyana and are working symbiotically with national and regional authorities to gather accurate updates.
The commission's National Emergency Monitoring System (NEMS) is a 24-hour hotline that steadily receives data from the entire country. Residents are encouraged to contact them on 600-7500 to report any impacts.