A TWENTY-THREE-year-old student of the Hugh Wooding Law School, Reon Miller, has utilised his creative abilities to fund his legal studies.
The budding attorney-at-law has been organising the Pan Jazz Music Concert since 2018, all with the intention of enticing music lovers and funding his studies.
Not only is Miller a master at the pan, but he also copped 'Best Debater' while emulating the Prime Minister at Youth Parliament 2018. The young law student did this while working a full-time job at a law firm, and being involved in a gamut of extra-circular activities at the University of Guyana, such as debating at the Caribbean Court of Justice (CCJ).
A Georgetown boy, Miller grew up in Norton Street, Wortmanville and David Street, Kitty. He told the Sunday Chronicle that his experiences through the years, supplemented by the support of his family and friends, tremendously shaped his life.
Miller started playing pan with the band at the First Assembly of God Church just a few weeks before he commenced his secondary education studies at The Bishops' High School in 2009. His love for 'pan' only grew stronger after he entered school, since "they coincidentally had a steel pan band" which enabled him to hone his skills.
"It's from there I actually developed my love for music and I've been playing ever since," Miller said, while reflecting on the numerous competitions like the Republic Bank Panorama competition which he entered with The Bishops' High School band.
He eventually joined the Park Side Steel Orchestra in 2012 to further develop his skills, and one year later, he copped first place in the junior solo steel pan category at the Panorama Steel Band Competition.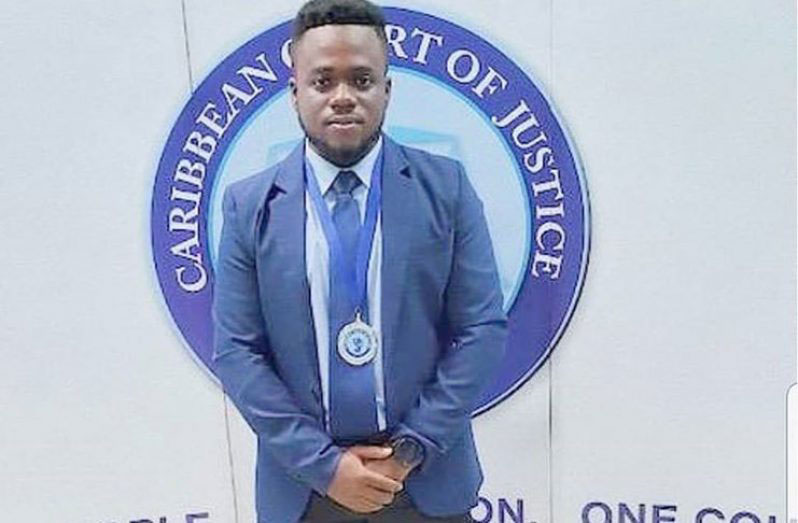 Miller could not answer the question as to why he chose pan, but he related that the love he developed for it served as the magnet between him and the instrument. After dedicating long hours, which turned into years, he is now being hired to play at any ceremony where the vibrant sound of steel pan is welcomed.
After completing his Caribbean Secondary Education Certificate (CSEC) examinations in 2014 and his Caribbean Advanced Proficiency Examination (CAPE) studies in 2016, Miller left the Bishops' High School with the intention of pursuing studies in accounting.
"When I finished sixth form, I had already written like five papers of the Certified Accounting Technician (CAT) and I was like this is not for me. So, I just scrapped that and I started working for a law firm, Boston & Boston, like two weeks after I left school," Miller said.
The leap to start working in the legal field as a paralegal was not premeditated, he said, noting that the mother of a close friend of his opened the opportunity for him, however, it is one he did not regret, and one that also influenced his decision to pursue studies in law.
Although the interest was there, Miller encountered his first hurdle in 2016, when he did not make it into the batch at University of Guyana (UG) to commence his Bachelor of Law (LLB).
This "minor setback" did not hinder his progress, as continued working at the law firm, and applied and got accepted into the programme the following year.
CHANGED MY LIFE
"UG for me, UG changed my life. Not really the institution but the experience at UG, it molded me into a thorough person, into a more discipline person, an analytical person. I developed a discipline for studying; I used to be in the library every night but soon I discovered my love for the law," he said.
While at UG, an enthusiastic Miller decided to throw his hands at debating, something he had never done in his life. He then got the opportunity to display his debate skills at Youth Parliament 2018.
"After Youth Parliament, I said let me try one of the debating competitions," Miller said, as he recalled his "enriching" experience from Youth Parliament, which fuelled his desire to want to be more involved in debates and expanded his love for the advocacy aspect of the law.
He then competed in the Aubrey Bishop Mooting Competition at UG, where he copped Best Debater in the first round of the competition. Owing to this experience, Miller went on to compete in the Caribbean Court of Justice (CCJ) law moot competition in 2019; after 11 years, UG won the award for the Best Academic Institution.
"I was so scared of the moot that I dedicated all of my time to this, all of my time was towards CCJ because from the time I got the moot I was like what is this. We used to spend five hours after classes researching, on the weekends we'd be there all day, it was 10 weeks of all day CCJ," Miller said.
He then participated in many other debate competitions, including one where he even won free tuition for one year at UG.
Owing to his collective experience, Miller was able to move from never competing in a debate competition to being a judge at the inaugural Speaker's National Youth Debate Competition in 2021.
"Life is really a sum of your choices. The choice to join Youth Parliament prompted the choice to join Aubrey Bishops which promoted the choice to do CCJ, which promoted the choice to do other debates, which ended up with me judging the Speaker's debate competition," Miller said.
In 2020, Miller furthered his legal journey at the Hugh Wooding Law School and also took a leap in his career and moved over to the Ministry of Legal Affairs' Inter-American Development Bank (IDB)-funded project, Support for the Criminal Justice System Programme, where he is currently employed as a paralegal.
COSTLY FEES
While Miller started to save from the inception, the tuition fee to attend law school was costly; however, at no time did this deter him, as he was adamant on finding a way to pursue his goals.
"We do two years at Hugh Wooding and while I was at university, I was thinking Hugh Wooding is really expensive, so I thought about one of the main things in my life that I enjoy and that I'm good at, and it was steel pan," Miller said.
At that moment, it dawned upon the budding attorney to start the Pan Jazz Music Concert in 2018 to help fund his legal studies. The first concert saw some 100 persons in attendance, however, by the next year, over 275 persons attended.
"When you grow as a musician, you grow with people, so I just end up having a plethora of musician friends," he said, noting that they are all well versed in playing a variety of instruments, which helped to put the concert together.
"I didn't have to pay anybody or anything because they understood that they are doing it for the cause… I organised everything and we did it and then we did it again," Miller said.
"I looked into the audience and I saw judges, I saw diplomats, I saw ministers of government, I saw a lot of people and I felt proud of myself and I felt proud of the team that we did something really good," he said, adding that despite the pandemic, there are plans to execute a next Pan Jazz event.
Miller's journey was not without its challenges, however, he said: "It's a situation where you have to do what you have to do until you can do what you want to do."
He said that he has never been short of support from his family, a support and form of encouragement that has always been there and continues serve as the driving force behind his accomplishments.
"If you're looking at blessing, the biggest blessing in my life is my great-grandmother, the person that raised me. She's actually 103 right now and she's been there so if you want to know my biggest accomplishment, it's making my great-grandmother proud," he said.