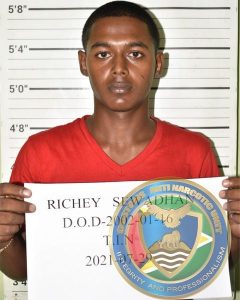 THE Customs Anti-Narcotic Unit (CANU), acting on intelligence, has arrested two men who were travelling in a motor vehicle on Thursday after they were found with a quantity of cannabis. The men were subsequently charged. On Friday, they appeared before Magistrate Rushelle Liverpool at the Vigilance Magistrate's Court, where they were both remanded to prison; the matter was adjourned to September 17, 2021. CANU, in a press statement, said that acting on information, law enforcement intercepted the men at Factory Road, Paradise, East Coast Demerara.
A search of both men, along with their bags, revealed several wrapped parcels containing cannabis, a statement from CANU noted.
The suspects gave their names as Vickey Doodnauth, 23, of Market Road, Rose Hall, Berbice, a welder by profession and Richie Sewadhan, 19, of the said address, who is also a welder.
They were arrested and escorted to CANU headquarters where the parcels were weighed; it amounted to 12.8kg and both men were subsequently charged.